Proud to Support Series
FFH has been a proud partner with Midland Foundation since 2011.
Located in North Branch, NJ, the Midland Foundation raises funds and other resources to support The Midland School and Midland Adult Services.
The Midland Foundation works with parents, families, foundations and corporations to raise funds to develop programs benefiting the School and its programs. With each innovative program we implement and each improvement made to our facilities, we provide additional opportunities for our students and graduates to grow and achieve more.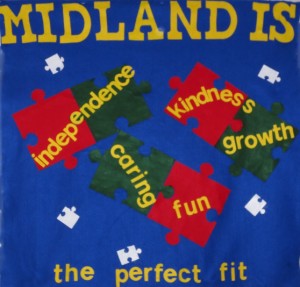 The Midland School Mission
The Midland School is a comprehensive special education program dedicated to the academic, social, emotional, and career education needs of children with developmental disabilities. Midland promotes personal achievement and fosters independence for children and adults with intellectual and developmental disabilities by providing a range of innovative programs.
It is the goal of the Midland School to carry on its educational program with emphasis on service to individuals or groups in the following order of importance:
The ChildrenEach child participates in an individualized program specifically designed and constituted to promote optimal growth and development.
The FamilyThe school conducts educational programs and programs of individual and group counseling for families to aid them in understanding and helping their child to develop to the greatest possible degree.
The StaffIt is the policy of the school to aid the staff in every way possible to achieve maximum results with respect to each student.
Other Professional Individuals and Agencies To whatever degree possible, the school lends its knowledge and resources to other individuals and agencies in the same or similar fields of endeavor.
---
Please visit www.midlandschool.org/midland-foundation/ for more information about Midland Foundation and the source information for this page.