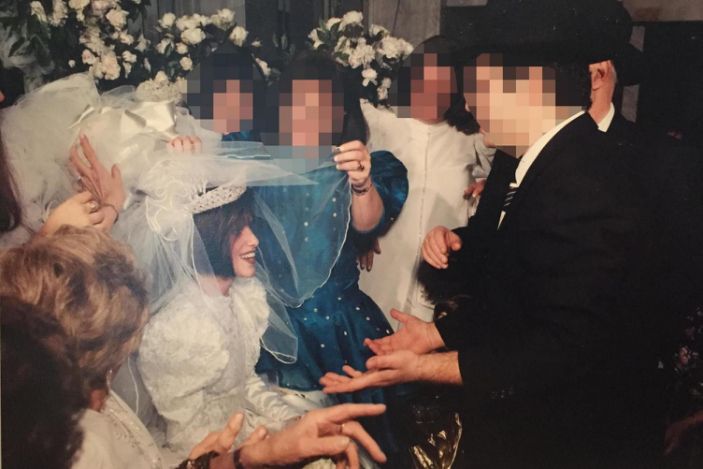 Donna Pollard first met her future husband when she was 14 years old. She was a patient at a Kentucky mental health facility, dealing with the death of her father. He was her 29-year-old health worker.
Donna had a difficult childhood and her mother – a child bride herself – suffered with mental health issues. "Instead of receiving the help that I desperately needed as a young girl, I was preyed upon by a person that worked at the facility," Donna says. The mental health technician would meet Donna in increasingly secluded areas, telling her she was intelligent, making her "feel beautiful" – grooming her.
When she was released from the facility, her mother allowed the relationship to continue, driving her across the state line to Indiana to visit him. After two years they got married just as Donna turned 16. "He went from being what I thought was my knight in shining armour to my abuser very quickly." She claims her husband was violent and manipulative, staging suicide attempts if she went out to dinner with colleagues.
"He began exploiting me, sending me on conquests to bring home other girls my age to party with him."
Donna soon fell pregnant, a child she would go on to miscarry. It was only when she "was on the verge of death" after two weeks of high fever and pain that he took her to the emergency room. "As a 16 year old I could not consent to my own medical treatment … I was married, I thought that meant I had the rights of an adult, but unfortunately it did not."
Donna says her husband took her to a strip club for the first time on her 18th birthday when she was seven months pregnant. "I was mortified, I tried to resist going but he was very insistent." After their baby girl was born her husband reportedly tried to make her work in the club for "fast easy money" and to "supply him with girls and drugs".
"I felt completely trapped, I had nobody."
Only two US states – Delaware and New Jersey – have set the marriage age floor at 18 with no exceptions. Twelve states do not have any set age limit, and six allow girls under the minimum age to get married if they are pregnant. In those states the laws "are weaker than child marriage laws in countries like Afghanistan, Honduras and Malawi", Girls Not Brides CEO Dr Faith Mwangi-Powell says.
Research done by the Tahirih Justice Centre suggests that pregnant teens who marry are up to three times more likely to have five or more children in their lifetime, are 50 per cent more likely to drop out of school and are four times less likely to complete college. "It's a dangerously misguided notion that a pregnant teen is better off married than remaining single, and all the research shows exactly the opposite," Jeanne Smoot of the centre says.
Fraidy Reiss grew up in an orthodox Jewish community in New Jersey and says she was forced to marry when she was 19. After being trapped in an abusive marriage for 15 years and becoming the first in her community to get a restraining order against her husband, she set up Unchained At Last, an organisation fighting child marriage in the US.
"I wanted to get divorced from the start, but in the community I was from, a woman does not have the legal right to end her own marriage." As well as divorce, Fraidy says "religious laws and customs" made numerous other rights impossible for her to access, such as not being allowed "When I finally managed to escape my family they punished me for leaving by declaring me dead."
In her campaigning, Fraidy says most people are unaware child marriage is still legal and happening, rather they see it as an issue relegated to the past. "Legislators are not feeling a lot of pressure to change the laws and eliminate the human rights abuse. Couple that with a lot of legislators who still cling to really old-fashioned, misogynistic notions of a girl's value, and really outdated notions of what happens if a girl gets pregnant outside of marriage … they don't care if she was raped, they don't care about studies that show a pregnant married teenager is more likely to face financial deprivation."
Of the available data, between 2000 and 2015, at least 207,459 minors were married in the United States, although campaigners warn this number is likely higher. Of this number, 87 per cent were girls, 86 per cent of whom married adults. During this period, 12-year-olds were granted marriage licenses in Alaska, Louisiana and South Carolina, and 13-year-olds were allowed to marry in Alabama, Florida, Idaho, Kentucky, Louisiana, Mississippi, Missouri, New Hampshire, New Jersey, New Mexico, South Carolina, Tennessee, Texas and Washington.
One of the biggest age gaps was a 74-year-old man marrying a 14-year-old girl in Alabama, with the state later raising its minimum marriage age to 16. Despite common misconceptions, campaigners say the problem spans numerous communities. "The circumstances can have nothing to do with religion or culture or from being with a particular community and have everything to do with the ways in which that individual is already at risk," Jeanne Smoot says.
Currently the world is at risk of witnessing 150 million more girls getting married by 2030; as Dr Faith Mwangi-Powell says: "That's 150 million too many."
Getting married as a child can cut you off from many safety nets adults are afforded.
In certain states children cannot file for divorce without parental involvement, or get legal advice, or seek refuge at a shelter for women because of issues insuring minors. Activists also warn Child Protective Services do not always get involved in cases involving a child bride because of the legal grey area of marriage. Fraidy Reiss says this creates a "hellish trap" for girls; "when these girls reach out to us for help and we tell them how limited their options are, they try to kill themselves. How can it be in 2020 that the message we're giving girls is that this is the only way out?"
In 13 states and Washington DC, marriage licenses for minors can be issued without a judge, meaning only parents and a clerk need to approve it. "A clerk has what – sometimes less than a minute at a window to check that a form has been filled out," Jeanne Smoot says. "They're not trained as social workers … They know civil laws, and the civil law in front of them says you can issue a marriage licence if X, Y and Z criteria has been met."
Even in instances where a judge is involved, the safety of a child is not guaranteed. "If a child has been abused leading up to court she has often been coached and conditioned to say only certain things to certain questions. If she's only asked 'is this what you want to do' and says what she's been told to say, then that may be the end of the inquiry. In many cases even that threshold question isn't required to be asked."
Jeanne Smoot also says she has seen instances where girls have been told by their families and husbands that they'll be "put into foster care and raped" if they go to the authorities.
The last straw for a teenage Donna Pollard, she says, was when her husband pinned her to the floor in front of their daughter and started choking her. "I looked over at her truly thinking I was going to die. I could feel myself fading out and I remember before I passed out looking at her and she was laughing. And I realised she was just a baby, still crawling, and in her young innocent mind we were playing; mommy and daddy were wrestling. I realised if I didn't get out she was going to grow up normalising this."
Donna eventually left her abusive marriage by saving tips her husband didn't know she was earning from the boutique shop she worked at. Once she had escaped, Donna took her husband to court to try and get custody. "When the judge looked at me – a high school dropout who didn't even complete the 10th grade – and at that point I was making like $8 an hour, I had worked in a strip club – I looked like I had no promise of a future. Whereas here he was in his early 30s, a college degree, stable income, and so I realised very quickly I didn't have a chance at custody. And to this day I pay him child support."
Donna now runs Survivors Corner and has dealt with girls who got married as young as 11. She helped write a bill successfully passed in Kentucky in 2018 putting an end to child marriage through parental consent, but getting it passed was far from smooth. Donna says one of the biggest oppositions was from conservative non-profit organisation The Family Foundation. She claims "their primary concern is reducing access to abortion. If parental consent is taken out of the equation when it comes to a decision made on a child, then parental consent may very well not be required for access to abortion for a child as well."
Kent Ostrander from The Family Foundation insists the organisation "doesn't want 13-year-old girls being raped by friends of their parents", and says that he is "fine" with 18 being the age limit, and would also be happy if it was 16. He does, however, stand by the organisation's stance that parents should be involved in the marriage process, saying "if a parent has lovingly raised a child for 17 years they deserve to be involved".
"It's well established that parents have rights over care custody and control of their children … it does not and cannot logically extend to children entering an adult sexual relationship with possible lifelong ramifications," Fraidy Reiss says. She also claims no study has ever shown ending child marriage increases teenage abortion rates. "If we end child marriage – which only two US states have done – I'm going to guess teenage pregnancy rates will decrease. And that's something people on both sides of the abortion debate can get behind."
Despite bills being passed, they are often delayed, left on the pile, sometimes even dying before they are approved. The unique legislative process of the US poses constant hurdles for activists, with state-by-state regulation making ending child marriage a slow battle. Theoretically the president could sign an executive order banning it nationwide, but as Donna Pollard says, "I do not think that's something that would be considered with this current administration."
Change is possible, as seen in the numerous states that have listened to survivors and taken some action, but thousands more children will continue to get married in America if laws do not change. "There's no benefit to it, and it doesn't harm anyone if you end it," Fraidy Reiss says. "The only people you harm are child rapists – and somehow I'm OK with that."