The Ayurveda Way: 108 Practices from the World's Oldest Healing System for Better Sleep, Less Stress, Optimal Digestion, and More
Ananta Ripa Ajmera
Celebrated Ayurveda teacher Ananta Ripa Ajmera offers an inspiring introduction to this ancient Indian medical tradition, which complements and extends the health and wellness benefits of yoga. Through 108 short essays you will learn to approach optimal digestion, better sleep, less stress, and a more balanced life. Diet is key, and many essays are accompanied by recipes that incorporate into daily meals spices such as turmeric, cumin, ginger, and mustard seeds. In addition, meditation, yoga and breathing exercises, and self-care practices such as oil pulling and massage, make this time-tested wisdom available to contemporary holistic health enthusiasts — even beginners.
---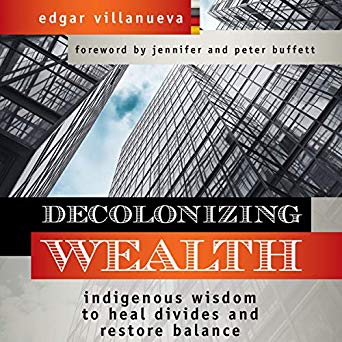 Decolonizing Wealth: Indigenous Wisdom to Heal Divides and Restore Balance
Edgar Villanueva
Decolonizing Wealth is a provocative analysis of the dysfunctional colonial dynamics at play in philanthropy and finance. Award-winning philanthropy executive Edgar Villanueva draws from the traditions from the Native way to prescribe the medicine for restoring balance and healing our divides.
---

The New Jim Crow: Mass Incarceration in the Age of Colorblindness
Michelle Alexander
Praised by Harvard Law professor Lani Guinier as "brave and bold," this book directly challenges the notion that the election of Barack Obama signals a new era of colorblindness. With dazzling candor, legal scholar Michelle Alexander argues that "we have not ended racial caste in America; we have merely redesigned it." By targeting black men through the War on Drugs and decimating communities of color, the U.S. criminal justice system functions as a contemporary system of racial control—relegating millions to a permanent second-class status—even as it formally adheres to the principle of colorblindness. In the words of Benjamin Todd Jealous, president and CEO of the NAACP, this book is a "call to action."
---
Dopesick: Dealers, Doctors, and the Drug Company that Addicted America
Beth Macy
In this extraordinary work, Beth Macy takes us into the epicenter of a national drama that has unfolded over two decades. From the labs and marketing departments of big pharma to local doctor's offices; wealthy suburbs to distressed small communities in Central Appalachia; from distant cities to once-idyllic farm towns; the spread of opioid addiction follows a tortuous trajectory that illustrates how this crisis has persisted for so long and become so firmly entrenched.
---
Betrayal: The Crisis in the Catholic Church
The findings of the investigation that inspired the major motion picture Spotlight
The Investigative Staff of the Boston Globe
Here are the devastating revelations that triggered a crisis within the Catholic Church. Here is the truth about the scores of abusive priests who preyed upon innocent children and the cabal of senior Church officials who covered up their crimes. Here is the trail of "hush money" that the Catholic Church secretly paid to buy victims' silence–deeds that left millions of the faithful in the U.S. and around the world shocked, angry, and confused. Here as well is a vivid account of the ongoing struggle, as Catholics confront their Church and call for sweeping change.
---
Birthing Justice: Black Women, Pregnancy, and Childbirth
Edited by Julia Oparah and Alicia Bonaparte
There is a global crisis in maternal health care for black women. In the United States, black women are over three times more likely to perish from pregnancy-related complications than white women; their babies are half as likely to survive the first year. Many black women experience policing, coercion, and disempowerment during pregnancy and childbirth and are disconnected from alternative birthing traditions. This book places black women's voices at the center of the debate on what should be done to fix the broken maternity system and foregrounds black women's agency in the emerging birth justice movement. Mixing scholarly, activist, and personal perspectives, the book shows readers how they too can change lives, one birth at a time.
---