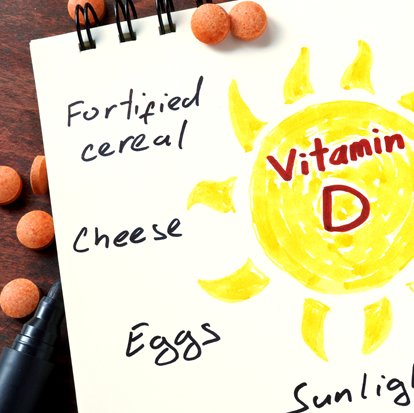 Vitamin D, or the sunshine vitamin, is actually a hormone produced by the skin. It plays a part in bone health and can be a determinant factor in developing many diseases because of its role in inflammation. Vitamin D's involvement in calcium and phosphorus uptake and absorption also make vitamin D a major component of nervous system functioning.
What are the risk factors for vitamin D deficiency?
Being African American or having darker skin tones
Having a bowel disease like IBS or Crohn's
An Indoor lifestyle
Being overweight
Exposure to air pollution which blocks UVB rays
Wearing sunscreen
Being over 50 years old
Having kidney or liver disease
Some symptoms of deficiency are bone aches and depression, especially during the winter. A diagnostic vitamin D test (Vit D 25 OH) can be ordered by your doctor.