The Vaccine Adverse Events Reporting System (VAERS) is a national passive reporting system used to help monitor the safety of vaccines. It was designed to keep track of all negative reactions occurring after a person receives a vaccination, including those reactions not identified during clinical trials. The US Department of Health and Human Services reports that the United States has the safest, most effective vaccine supply in history, however, vaccine injuries do occur. These adverse reactions can range from minor to completely debilitating neurological injuries and even death. To assist the government in tracking these events, and to ultimately help develop safer vaccines and vaccine schedules, individuals and physicians are encouraged to report all vaccine adverse events.
Article Navigation:
---
Adverse reactions to Vaccines – What to Report
Since 1986, it has been required by law for doctors and vaccine providers to report hospitalizations, injuries, deaths and serious health problems following vaccination to VAERS.
According to the FDA "serious adverse events" are defined as undesirable experiences associated with the use of a medical product that result in:
Hospitalization
Life threatening illness
Other serious illnesses
Disability or permanent damage
Congenital anomaly or birth defects
Illness requiring intervention to prevent permanent impairment
According to the National Vaccine Information Center, some of the adverse events that should be reported to the VAERS include:
Rash or hives
Twitching or jerking in body parts
Crossed eyes
Weakness or paralysis
Onset of chronic ear infections
Persistent diarrhea or constipation
Asthma/breathing problems
Speech/language problems
Memory loss
Joint pain
Sleep disturbances
Loss of eye contact or social withdrawal
Swelling, redness, heat or hardness at injection site
Persistent crying or high pitched screaming
All suspected reactions should be reported. Families can encourage their physicians to report any event post-vaccination, but parents can also log on to document side-effects.
The National Childhood Vaccine Injury Act (NCVIA) requires health care workers to report any reaction that is listed on the vaccine package inserts as contraindications to receiving the vaccine again, or "reportable events." These events have time reporting deadlines and must occur within a certain time.
VAERS Table of Reportable Events Following Vaccination
Ex: Encephalopathy and encephalitis are included as reportable events, but must occur within a certain amount of days after the shot (usually up to 15 days after the shot). If encephalitis occurs after 15 days, by law the doctor does not have to report it.
Doctors are only legally responsible to report injuries that are listed on the Reportable Events Table, but they are strongly encouraged to report all reactions. According to the FDA (2012), "there are not penalties specified in the law for health care providers who do not report adverse events [of vaccines]."
---
Who can Report to VAERS?
Healthcare providers, patients, parents, caregivers, and manufacturers are encouraged to report all adverse medical events post vaccination, whether it may or may not be caused by the vaccine. However, many fail to report these reactions. It is in the patient's best interest to ensure their medical provider documents these reactions and retain a copy of the report for their personal records.
The VAERS number can be found on the vaccine information sheet given at the time of vaccination. Information can also be found on the VAERS website.
Contact VAERS
On the web: www.vaers.hhs.gov
Email: info@vaers.org
Phone: 1-800-822-7967
Fax: 1-877-721-0366
---
You may have to inform your physician of the importance of VAERS
Approximately 40% of healthcare providers had identified at least one adverse event after immunization, but only 19% stated that they had ever reported to VAERS. Source
The long term health consequences of an adverse vaccine reaction may not be clear for months and sometimes years following the event, which is why individuals, parents, and/or caregivers should insist the physician who administered the vaccine document the reaction in the patient's medical chart.
Maintaining your own record of every detail, including date and times, names of all health professionals involved, hospitalizations, is also extremely important.
Having a well-documented record can be essential if the person decides to file a claim in the National Vaccine Injury Compensation Program. Source
---
Why is it important for you to report an adverse reaction?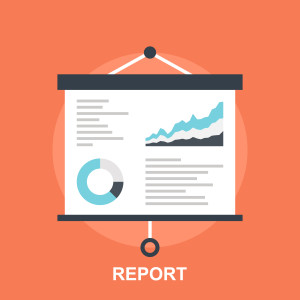 It is vital for everyone who experiences an adverse reaction to vaccine following vaccination, or is a caregiver for someone who may have had an adverse event, to file a report. The reports are the foundation of how vaccine safety is evaluated and your contribution is what enables investigators to determine when and what safety measures to be taken when needed.
It is estimated that only 1 to 10% of all adverse vaccine reactions are actually reported. True patterns of vaccine injury can be hard to predict when 99% of occurrences go undocumented. It is essential that parents pay attention to changes in their child's health (elevated temperature, rash, diarrhea, convulsions, etc.) or behavior (persistent crying, arching of the back, unusually tired, lethargic, confusion, etc.) that could be signs of possible vaccine-injury. Even if the doctor says it is unrelated, any changes in an individual's or child's medical condition or behavior should be reported to VAERS as soon as possible.
Reports should be made directly to VAERS and not the vaccine manufacture. Since 1990, there have been about 200,000 reports, but less than 10% came from parents. Source
The results enable investigators (and/or researchers) to monitor the general safety of vaccines and helps vaccine policy makers and researchers identify disproportionately higher number of adverse events associated with a particular vaccine. The culmination of information prompts for greater attention and more vigorous vaccine research. The events have prompted manufacturers to alter vaccines or remove from the market altogether, based on VAERS database findings.
In 1998, RotaShield was introduced to the market. After reviewing multiple reports of a serious and life-threatening intestinal blockage events reported to VAERS, the vaccine was pulled off the market. Without VAERS this vaccine might still be on the market.
---
How to Complete a VAERS Form
Reporting to VAERS is fairly simple. You can print out forms from the website and mail them, or you can submit a form online.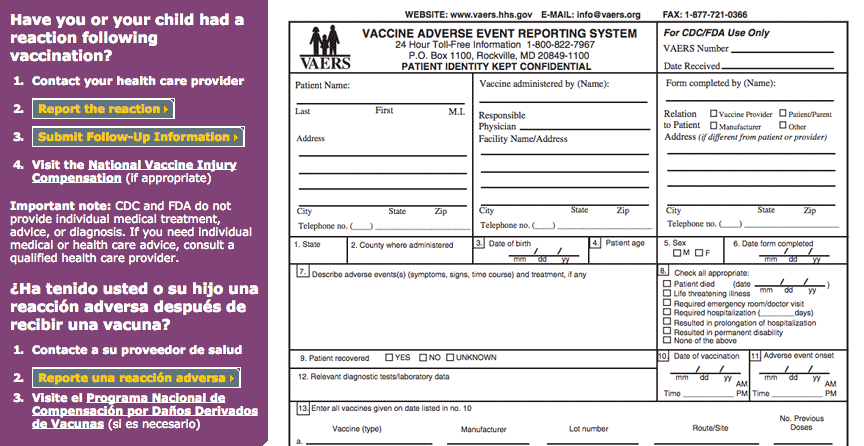 When completing the VAERS form, it is important to include all health conditions, as VAERS can then account for these reports as contributing factors to vaccine associated injury. It is also recommended to attach medical or hospital records, clinical summaries, or any additional documentation that would be useful in evaluation by the VAERS review team (medical officers, nurses, and trained staff at both FDA and CDC) in detecting patterns of adverse vaccine related events.
It is also 'essential' to record the manufacturer of the vaccine and the lot number, which is information easily available from the patient's medical record or a call to the physician's office. Doctors must keep a record of any vaccine given and are required to release this information to the parent when asked.
---
What Happens to Your Report?
You will receive a letter confirming the receipt of your filing with a VAERS ID number and a request for additional information, if needed. A healthcare profession may follow up with you to obtain more information on your adverse reaction. It is important to fully complete the form to avoid the delay or possible exclusion of your adverse reaction from the database.
Reports are separated by codes based on pre-set criteria, then separated into serious and non-serious events. The coded adverse events are then grouped and studied for any possible trends; however, due to under-reporting, many trends are missed.
The VAERS and the National Vaccine Injury Compensation Program
The VAERS is not associated with the National Vaccine Injury Compensation Program (NVICP) in any way. Filing a report does not impact compensation through that court. To learn more about the NVICP, click HERE.
Be sure to visit the Vaccine Law page, which provides a summary of state vaccine laws and exemptions available in different states, including which states require the signature of a medical doctor or other state-designated health care worker in order to file a non-medical exemption. States with an asterisk next to them are states that have enacted recent restrictions to exemption laws.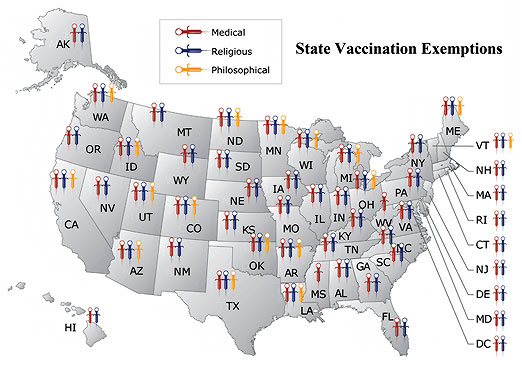 Map used with the permission of the National Vaccine Information Center.
Back to Top
Stay Informed. . . Stay Healthy!
---

Join the Conversation
your thoughts matter
This article was written in collaboration with the FFH team and Sheri A. Marino MA, CCC-SLP.