Approximately 27% of U.S. children live with chronic health conditions that can affect their daily lives and normal activities. These maladies often contribute greatly to school absenteeism and require continual medical attention.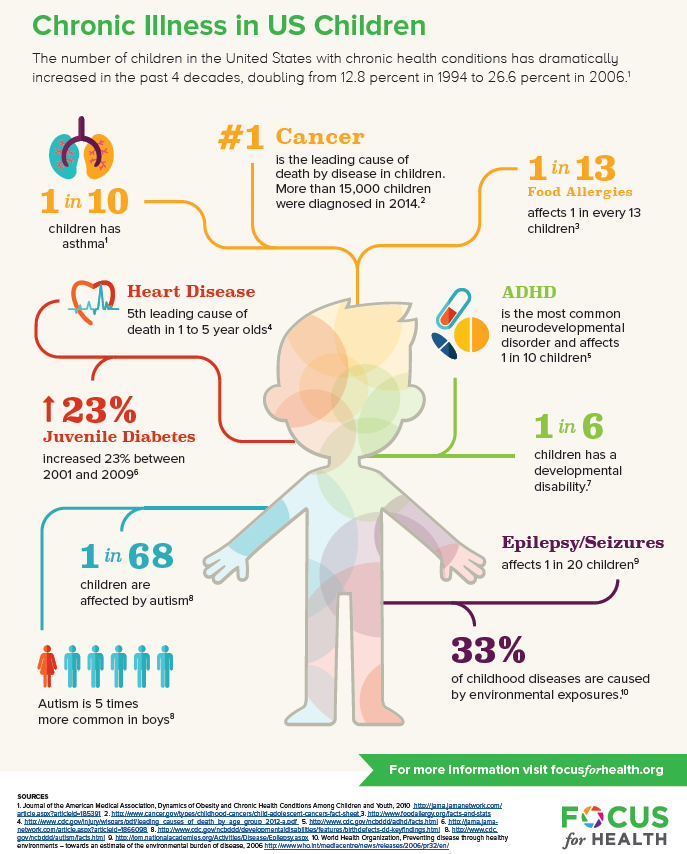 On a larger public health scale, chronic illnesses are also responsible for 7 in 10 American deaths – twice as many deaths as all infectious/communicable diseases, including HIV/AIDS, tuberculosis and malaria, combined – and they account for 78 cents of every health care dollar spent. 1
Many studies suggest chronic health problems, along with learning and developmental disorders, appear to be on the rise. These rising childhood illnesses include, but are not limited to:
Attention-Deficit Disorder (ADHD)
Arthritis
Asthma
Autism Spectrum Disorder (ASD)
Auto-immune disorders
Developmental/Learning Disorders
Cancer
Cardiovascular problems
Cerebral Palsy
Cystic fibrosis
Diabetes
Epilepsy
Food allergies
Obesity
Respiratory allergies
Sickle cell anemia
Spina bifida
Continue Reading:
Chronic Illness and the State of Our Children's Health

In 2006, the World Health Organization (WHO) released a comprehensive study that suggests more than 33% of diseases affecting children under the age of five are caused by environmental exposures.
National Center for Biotechnology Information, Racial/Ethnic Disparities in Chronic Diseases of Youths and Access to Health Care in the United States, 2013 link
---

Join the Conversation
your thoughts matter
The Focus for Health Foundation is dedicated to ensuring that every individual has access to the information necessary to make optimal health decisions for themselves and their families.
The mission of the Focus for Health Foundation (FFH) is to promote advocacy, education, and research to combat the rise of chronic illness occurring around the world. We support efforts that increase public awareness of the connection between hazardous environmental exposures and the immune system, and address how social determinants of health and inequality within populations creates vulnerability to disease.