September 2016
In the winter of 2006, we had the biggest scare of our lives as parents. While at work, I received a call from my son's daycare stating, "He is on his way to the ER. He is able to breathe now and we will meet you at the hospital." Those sentences have been ingrained in my memory for many years.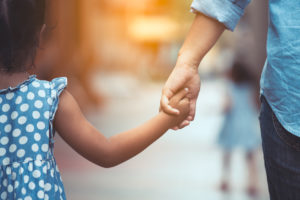 As I entered the ER, my son's physical appearance was frightening; his eyes were swollen and his entire body swelled like a big puffy marshmallow. At that point, it became clear to me we were dealing with something serious. The next day, I put my child in the car and took him straight to the doctor, where he was diagnosed on the spot with a peanut allergy. Turns out that my son had been sitting on one of the highchairs that was shared with another little child who had been eating Honey Nut Cheerios. His reaction was due to cross contamination.
We avoided all peanut butter products and then had our son thoroughly examined and tested by an allergist, who also diagnosed him with tree-nut, sesame seed, and shellfish allergies, and found out that he also suffers from Oral Allergy Syndrome (OAS). When I described my son's symptoms from that day at daycare, he said, "That was anaphylaxis. He could have died. In fact, from what you've told me, it's lucky he's still here. You are going to have to be very careful." He wasn't trying to scare me, the doctor was just giving me the facts. But still, my blood ran cold.
Death? From eating a common childhood food? It's surreal. Until that moment, I hadn't realized the kind of danger my son had been in on that day. Food allergies weren't discussed all that much in 2006, and I had no way of knowing my son would have nut allergies. No one in my immediate family was allergic to nuts. Plus, peanut butter and jelly sandwiches were a common staple during my childhood years.
"Keep him away from peanuts," our pediatrician said, "and carry an EpiPen® at all times". Forever. I learned that people rarely outgrow a peanut allergy, and it is one of the most immediate and life-threatening food allergies. It may sound like simple enough prescriptive advice, but as my husband and I have discovered, avoiding peanuts, tree-nuts, and sesame seeds is not an easy task.
I was afraid of everything. I was sure there was hardly anything safe to feed him, and I didn't know how we were ever going to manage. I can still vividly remember sitting in front of the computer reading page upon page about food allergies with tears running down my cheeks, envisioning him having another anaphylactic episode or sitting all alone at the "peanut-free" table in the school lunchroom.
The reality is, living with food allergies is NOT EASY. Food reactions to peanuts and tree-nuts can be life-threatening for my son. We never, ever, go anywhere without his emergency medication, and train all who will have him in their care on how to respond, and most importantly, to respond promptly.
Every minute counts if a reaction is escalating. Unless you live with this daily, just imagine having to verify that EVERYTHING that goes into your child's mouth is free of peanuts, tree-nuts, and sesame seeds, as well as the equipment used and/or the hands that prepared his food.
Later that summer, asthma reared its head, and so it was back to the allergist, and towards the end of the year, who would have guessed that Alopecia would come into play?
In those early days, there was so much for our family to absorb and accept. It seemed overwhelming at first. In an instant, all of our lives changed. We now have to think about food wherever we go and view food as a potential threat. It has taken time to learn how to cope, but we've learned so much, and things have gotten a lot better.
I want other parents to know they are not alone, and that your child can learn to live a full life with severe food allergies. I realize people don't understand the severity of his food allergy because 99.9% of the time it is out of lack of awareness. I think the more we can educate and spread awareness, the better educated everyone will be about food allergies.
Today, my allergic son is in elementary school and is thriving. He helps bring awareness to his food allergies and is an advocate for others. He manages his allergies very well and for the most part, stays upbeat about them. He's an awesome kid and I'm thankful every day for his life and health. My goal each and every day is to ensure my son's safety, and to give him as normal a life as possible.
That is a little background to my son's story. As a parent, I have devoted myself to learning about this puzzling modern epidemic. When I was "new" to the world of food allergies, I didn't understand why many people seemed so resistant to accommodating the needs of my child. Why did they feel so angry about the restrictions placed on bringing snacks to class for holidays and birthdays? To me, it seemed obvious that a child's safety should be placed on a parent's priority list, and yet there were a few parents who tried to circumvent the rules. Whenever cupcakes were brought to class, my son was not able to eat one. Yes, I provided him with some other treat, but the deeper message was that he could not share what the others were eating, and was not part of the group. Every school event based on food sharing was a reminder of his allergy. It was also a reminder that the adults in charge did not think he was important enough to be included. For me, it was a constant reminder that those living with food allergies live with these inconveniences every day. Before I had kids, I wouldn't think twice about unwrapping a piece of candy or looking for the precautionary labels that state, "Manufactured on equipment that processes products containing…" I know better now because I have been through the trenches of being a food allergy mom. I don't expect anyone to know everything or treat my child differently, but I am hoping this personal journey will shed light on what food allergy parents experience.