August 15, 2016
"Life-changing" is the word I've used most to describe my latest, and hands down, greatest adventure. I've been blessed in my career to have traveled across the US and internationally using my experience to have some impact in the world of autism. However, my latest trip tested my will and my fortitude, proving to me that knowledge is power and using just a little knowledge in a developing nation will create limitless impact.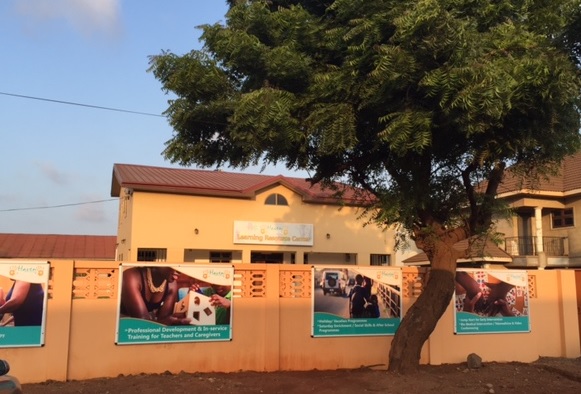 Dr. Genevieve Kumapley, a NJ pharmacist and the founder of "MyGOAL Autism" is raising a son with autism. It took one meeting with her to know we should work together in some capacity. Five years ago, Dr. Kumapley had a vision to open a learning and resource center for children with autism spectrum disorder in Ghana, Africa. Inspired by her mission, she invited me to accompany her to the opening of Haven International Center for Autism. Haven International is the first autism learning and resource center in Ghana, a country of 27 million people with no epidemiological studies to determine the prevalence of autism. I came to learn that autism was not necessarily recognized in this country, primarily because of their lack of knowledge and resources. In some parts of Africa, it is believed that children, who have autism, as we know it, are "possessed" and their mothers are "cursed."
Because of the horrifying stigma of having a child with autism in Ghana, these children are sometimes beaten, locked away, and abandoned. Culturally, families with autism are shunned, discouraging those who may want help, to actually get help.
It was Dr. Kumapley's intention to create a center, a "haven" for families who were forthcoming and seeking help, providing hope, while inspiring more families and professionals to learn about autism and the possibilities of a bright future with proper intervention.
The day we left I met a fellow member of Dr. Kumapley's professional team who was traveling with us. Terri Mathews of Jaden's Voice has accompanied Dr. Kumapley to Ghana and has also traveled to Zambia to help facilitate safe havens for children with autism. Terri is a powerhouse herself, raising a young boy with autism while running successful corporations and having been honored with multiple prestigious awards. With my new friends and colleagues, I was ready to venture out into a world unknown to me, in a country where children are still ostracized for having autism, lodging in a rented home amongst the locals, where the water is undrinkable, the showers are cold, I couldn't eat uncooked fruit or vegetables and I would be at risk for malaria, dengue fever, typhoid fever, and a host of other third world illnesses.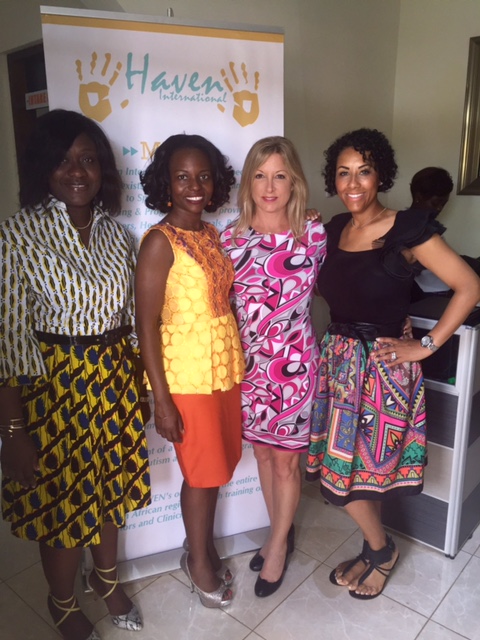 After a 10 hour flight we touched down in the capital city of Accra and deplaned. It was sunny and hot and my feet were on a continent I've never touched. I was nervous but eager. We were greeted by our escort, claimed our luggage and made it through immigration before being handed off to our driver, Ellie. Our luggage and videoconferencing equipment were loaded into the back of a pickup truck. I took the front seat to get the view.
Our driver was friendly and he navigated the busy traffic like a pro. Ellie was just that. He was a driver assigned to take us to and from our destinations for the duration of our trip. While I was initially surprised by the luxury, it soon became apparent that it was a necessity. Road Traffic Accidents (RTAs) are a public health problem in Ghana. I was happy to have Ellie.
Within the first few minutes of our drive, while we sat and waited for traffic to move, we were approached by women carrying goods on their heads hopeful to make a sale of essentials such as bagged water, fruit or ice. Within a few miles of the airport I could see the scarcity of industry, and the depths of the poverty.
Our first destination was our rental home where we'd stay for the next 5 days. As we pulled up I noticed the barbed wire atop the 8-foot wall that was guarding the property. Ellie honked the horn and our "security guard," a young, twenty-something, Ghanaian male, wearing a tank top and flip flops, opened the gates for us to pull through. After unloading, we refreshed and prepared to go see the new Haven Center. Preparation began with a prayer lead by Dr. Kumapley. Near the sliding doors, we joined hands in a circle and closed our eyes as she prayed for our safety, our health, and the gifts that we were about to offer to the people of Ghana. She gave thanks to the team for making a commitment to join in this mission and she asked for blessings for us and the new Center. It was a powerful moment. Our bond was sealed.
You could see the excitement in Dr. Kumapley's eyes as she was about to see her completed center for the first time. Her vision had become a reality. Now, it was up to her professional team to tie the pieces together before the grand opening just a few days away.
My contributions to the process were drawn from my experiences opening therapy centers, providing staff training, a donation of videoconferencing equipment from The Autism Think Tank, NJ, and sponsorship on behalf of the Focus for Health Foundation. On the day of the opening, I would lead a developmental clinic for families who wished to have their children screened for autism and other developmental issues.
As we pulled into the driveway of the Haven Center, we were greeted by the staff and warmly welcomed with hugs. It was a reunion for Dr.Kumapley and my first time meeting the staff that I had heard so many wonderful stories about. The team leader, Jennifer Dordor Brock was a key player in overseeing the construction of the center as well as the staffing and preparation for the grand opening. Lacking a few final touches, the center was nearly ready for the opening, looking professional, and most welcoming for families and children.
On Sunday morning, we ventured out to the tourist area of Accra along the Atlantic Ocean. Le Palm Beach Hotel was the beautiful location where we had brunch with Dr. Badoe, the only pediatric neurologist in a country of 27 million people. The restaurant was glorious, set on the beach and surrounded by green lawns and beautiful pools. We enjoyed a traditional Ghanaian brunch while discussing the autism epidemic and the lack of knowledge and resources in Ghana. Both Dr. Kumapley and Dr. Badoe expressed the need for epidemiological studies to be conducted in Ghana. Of all of the African nations, Ghana is one of the most westernized and autism awareness is increasing. The doctors both feel that the government needs to buy into the fact that an epidemic exists before government funded programs will be possible. Unfortunately, it's a Catch 22. In order for people to come forward to admit they may have a child with autism, they need to know there is support and resources available to them. Unless people are willing to come forward, epidemiological studies cannot be done to warrant government assistance. With the opening of Haven International, parents will have a place they can turn to and thus the process of awareness and acceptance can begin.
Over brunch, Dr. Badoe agreed to come to Haven on a monthly basis to diagnosis children and provide follow up visits. He also accepted an invitation to present a medically complex patient to the Autism Think Tank team with post grad students observing from the University of Cape Coast. This will be a coordinated effort between Haven International, The Autism Think Tank, which will moderate the videoconference with their six distinguished physicians from across the US, and CHIP International, who will organize the post-grad students and secure a location at the University for live-streaming of the Think Tank session. Through efforts such as this we can help educate health care professionals, creating opportunities for families to get the help they need. This has been made possible through funding from Barry Segal at the Focus for Health Foundation.