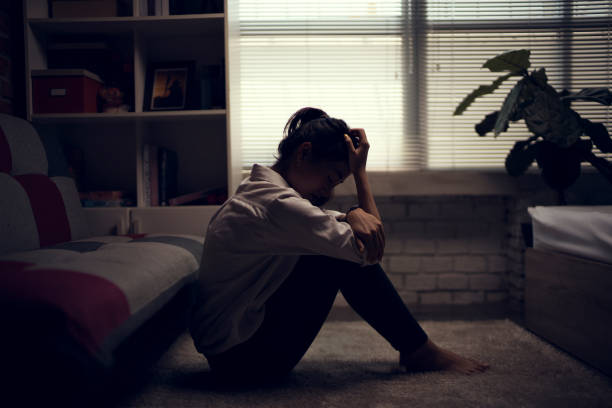 Americans have been shaken in recent years by the news of tragedies caused by individuals suffering from inadequately treated depression or other mental illnesses. Mental illnesses have increased significantly among adolescents and young adults. Since 2008, suicide has ranked as the 10th leading cause of death for all ages in the United States. In 2016, suicide became the 2nd leading cause of death among those aged 10-34 and the 4th  leading cause among those aged 35-54.
In 2017 there were an estimated 11.2 million adults in the United States with serious mental illness. The prevalence of serious mental illness was higher among women than men. Young adults aged 18-25 years and adults who reported two or more races had the highest prevalence of serious mental illness.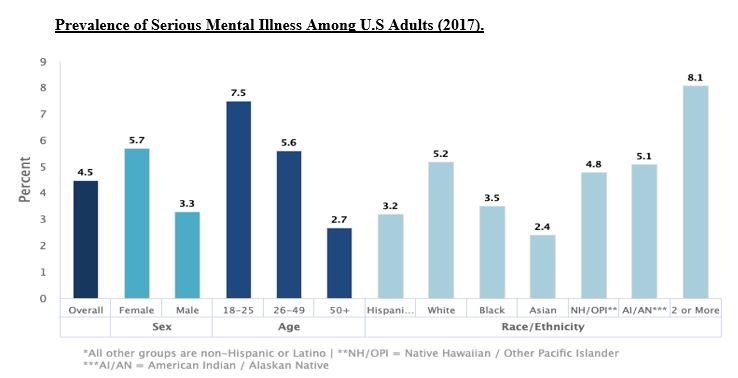 Source: National Institute of Mental Health
 Mental health is a state of successful performance of mental function, resulting in productive activities, fulfilling relationships with other people and the ability to adapt to change and to cope with challenges. Mental health is essential to personal well-being, family and interpersonal relationships and the ability to contribute to society. Mental health plays a major role in people's ability to maintain good physical health. Mental disorders are among the most common causes of disability and they affect people's ability to participate in health-promoting behaviors. The costs of untreated mental health conditions and stigma are profound. According to National Alliance Mental Illness (NAMI), 80% of workers with mental health conditions reported that shame and stigma prevented them from seeking treatment. Untreated mental health conditions cost the United States economy billions of dollars in lost productivity each year.
The burden of mental health among:
 Children and adolescents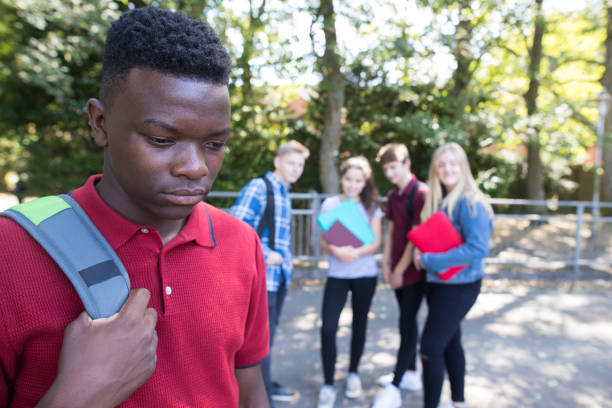 Mental disorders among children are described as serious changes in the way children typically learn, behave or handle their emotions, causing distress and problems getting through the day. The most common mental health disorders among children are attention deficit hyperactivity disorder (ADHD), depression and anxiety.
A good start in life and positive parenting are fundamental to good mental health, well-being and lifelong resilience to adversity. Unfortunately, due to poverty and inequality in the United States this is not the case for many children. This is particularly important because half of lifetime mental health problems develop by the age of 14.
According to a new Child Trends research brief, nearly 50% of children in the United States have experienced at least one Adverse Childhood Experience (ACE). ACEs are potentially traumatic events that occur in childhood (0-17 years) such as experiencing neglect, abuse, violence or having a family member die by suicide. Also included are aspects of the child's environment that can undermine their sense of stability and safety such as growing up in a household with substance abuse, crime, mental health problem, instability due to parental separation and incarceration of a family member. Exposure to adverse childhood experiences (ACEs) has been associated with poor mental health in children. Findings from a 2018 national study across Wales found that adults who suffered 4 or more types of ACEs were almost 10 times more likely to suffer from depression, anxiety and have suicidal thoughts than those who had experienced none.
Adolescents are confronted with numerous life stressors from both home and school. Unmanaged stress is believed to be a contributing factor in the development of mental health and behavioral problems. Additionally, the use of social media has been shown to have a negative impact on self-esteem and satisfaction with their lives.
Professionals
Earlier this year, the World Health Organization for the first-time classified 'burn-out' as a medical condition.  Burn-out is a syndrome conceptualized as resulting from chronic workplace stress that has not been successfully managed and is characterized by feelings of energy depletion and reduced professional efficacy. Cases of burnout have been increasing at an alarming rate in today's workplaces because of trends like rising workloads, shift work, limited staff, irregular work hours and a high stressful work environment. A recent study by Mind Share Partners revealed that experiencing symptoms of negative mental health at work was the norm, not the exception, regardless of seniority. 75% of Gen Z- ers and 50% of millennials also reported to have left roles for mental health reasons, both voluntarily and involuntarily. Mental health professionals struggle seeking help and support because of fear of losing their license. A Medscape survey found high rates of burnout among medical practitioners including 42% of psychiatrists and mental health professionals. Earlier this September two mental health advocates committed suicide.
Blacks in America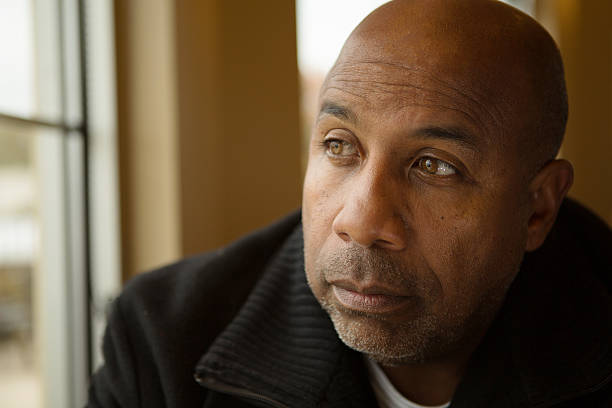 "Weathering" a term coined by race disparities scholar Arline Geronimus and colleagues, is a phenomenon characterized by the long-term physical, mental, emotional and psychological effects of racism and of living in a society characterized by white dominance and privilege. Weathering severely challenges and threatens a person's health and ability to respond in a healthy manner to their environment.
Although blacks have lower rates of common mental disorders than whites, mental disorders are more severe, persistent and disabling among blacks. Blacks are also less likely to utilize psychiatric services, and if they receive care, it is usually of lower quality than care provided to whites.
Other factors that increase the severity of mental disorders in the African-American population and decrease the likelihood of seeking adequate treatment are racism, poverty, violence, religious beliefs and lack of culturally competent providers.  According to the 2015 American Psychological Association survey, only 3.7 percent of American Psychiatric Association members and 1.5 percent of American Psychological Association members are African American. Family, spiritual beliefs and community are a great source of emotional support but has been a barrier to African Americans receiving needed mental illness treatment. Stressors like hunger and homelessness that can accompany poverty are contributing factors to the onset of mental illness.
Students of color population
Critical race theorists recognize that racism and discrimination adversely affect the mental health of black students by diminishing their academic self-concept, confidence and mental efficacy.
Repeated exposure to discrimination and incidents of racism by students and institutions increases the feeling of alienation, anxiety, depression and hopelessness among students of color. Universities and Colleges should create environments where students of color are valued. This can be done by establishing zero tolerance policies to racist actions and by recruiting and retaining a diverse staff. Systemic distrust, legal status, the high cost of care and lack of proper health insurance are other critical factors in the relationship between students of color and access to mental health.
The criminal justice system
Year after year the United States holds the highest incarceration rate in the world beating larger countries like India and China. It is also widely known that people with mental illness are overrepresented in the criminal justice system. Recent data from the Bureau of Justice statistics  shows that more than 25% of people in jail met the threshold for serious psychological distress and nearly 50% had been told by a mental health professional that they have mental illness. Incarceration has a great impact on important factors of health such as housing. Formerly incarcerated people are nearly 10 times more likely to be homeless and this can significantly worsen mental health problems.
Returning veterans and law enforcement officers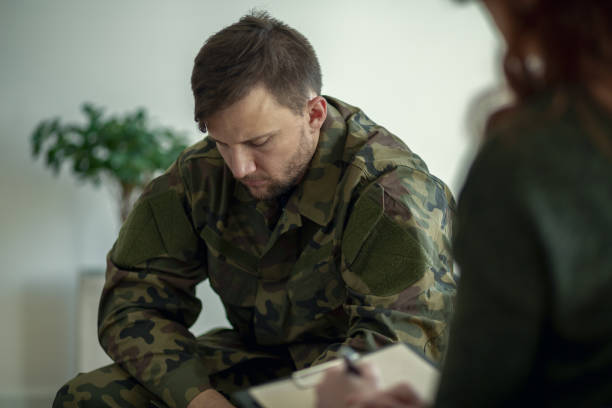 Mental health disparities in the US are often a leading factor to the high suicide rates among veterans who experience depression and Post Traumatic Stress Disorder (PTSD). Other conditions such as unemployment, financial stress, alcoholism and the inevitable family discord contribute to the high rates of mental illness. An increasing number of veterans today are homeless, experience substance abuse problems and gambling and addictions. Law enforcement officers respond to and witness some of the most tragic events that happen in our communities. Many officers struggle with depression, suicidal thoughts, posttraumatic stress disorders and other challenges.
 Lesbian, gays, bisexual, transgender and queer community
LGBTQ youth experience unique stressors such as self-harm, alcohol/substance abuse, suicidal ideation and suicidal behavior than heterosexual youth. Sexual minorities experience chronic stress that leads to behavioral and mental health outcomes that are disproportionately negative compared to members of the sexual majority group. A recent study examined disclosure to parents of LGBTQ identity and parental rejection, mental health and homelessness among youth users of an LGBTQ suicide crisis service. The researchers identified a high rate of homelessness, with nearly one-third of these youth reporting lifetime housing instability.
There is a significant positive relationship between inequality and risk of mental illness in America. There are numerous mental costs of income inequality which create greater social competition and divisions. These divisions in turn foster increased social anxiety and higher stress, and thus greater incidence of mental illness, dissatisfaction and resentment in America. To cope with these stressors many turn to drug and alcohol abuse, addictive behaviors like gambling and shopping which themselves generate further stress and anxiety.  Creating access to mental health services may not be able to reduce income inequality but they can ensure that they hear and respect the survival struggles of people who have faced a lifetime of unequal access to resources, discrimination, fear and disadvantage.
REFERENCES: