In my last column, I discussed the collusion of the dairy and flesh foods industries with the US government and Big Pharma to keep Americans fat, sick, and on prescription medications. There is so much confusing and contradictory information about what constitutes a healthy diet and I've been giving it much thought.
I have always cooked my own food from scratch, and as a gardener, my diet has been predominantly clean, green, and lean. After 18 years as a vegetarian, I inexplicably began to crave flesh foods. I thought I should listen to my body because it was telling me I needed animal products. I reintroduced them into my diet, albeit organic and "healthy." By healthy, I mean local, free-range, antibiotic-free, and growth hormone-free animal flesh foods. But, are any dairy and animal flesh foods really healthy – organic or otherwise? I'd like to explore that here based on the information I gleaned from watching the documentary film, What the Health by Kip Anderson.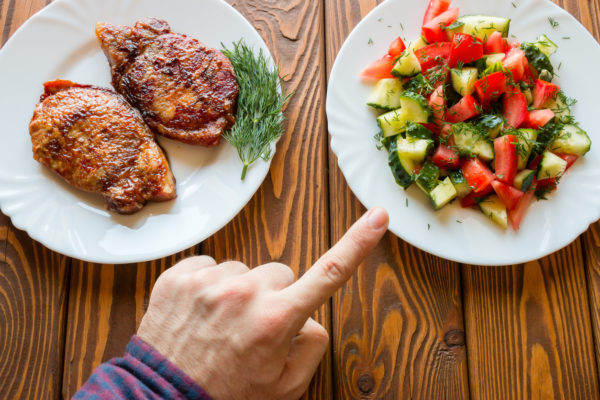 To start, I did notice, to my consternation, that reintroducing flesh foods into my diet caused me to gain a lot of weight. The two decades I was vegetarian, I was very lean, despite a diet that consisted of vegetables, fruit, and (the supposedly fattening) pasta – which I often ate several nights per week. When I began gaining weight as a meat eater, I cut out pasta because, at that moment in time, carbs were being blamed for the obesity epidemic. Despite, giving up pasta, I continued to gain weight. Was there a correlation between my meat consumption and my weight gain? The film, What the Health made me wonder.
We hear in the healthcare news that the source of most disease is inflammation. Cardiovascular disease including atherosclerosis, arthritis, some cancers, allergies, lung diseases like asthma, ulcerative colitis and Crohn's disease, and many health disorders are all inflammatory diseases. According to Dr. Michael Greger, founder of NutritionFacts.org,  "Dead meat and bacterial toxins cause a burst of inflammation in your system within minutes, paralyzing your arteries."
If the medical community knows that inflammation is the root cause of most life-threatening diseases, why aren't they educating their patients about it and encouraging them to pursue the reduction of inflammation?
The World Health Organization found that processed meat causes cancer in humans. Consumption of just one serving daily increases your risk of colorectal cancer by 18%. That's your or your kid's daily deli sandwich at lunch! In addition to deli meat, processed meats include hot dogs, bacon (hell, yeah! I said it!), salami, and pepperoni, etc. Processed meats are classified as a Group 1 carcinogen.  They're included in the same category as cigarettes, asbestos, and plutonium. Class 2 carcinogens include red meat. Over 800+ studies showing the carcinogenic effects of processed meats have been in medical literature for decades. Yet, there are no health warning labels on these products as there are on tobacco products. Which probably explains why one out of every four deaths in America is from cancer.
Filmmaker, Kip Anderson was shocked to see dietary recommendations on the American Cancer Society's (ACS) website that consisted of the proven Class 1 carcinogenic foods, namely deli and other processed meats. He tried to interview the ACS regarding their website's diet recommendations but they cancelled the interview just before the scheduled meeting was to take place when they found out Kip's interest was in the correlation between diet and cancer. The ACS rep stopped returning his emails.
The American Cancer Society does not want to talk about the link between cancer and diet because they are also funded by the meat and dairy industries, much the same way that Pharma subsidizes the ACS. Pharma wants that first line treatment of disease to be treatment with drugs and not disease prevention through cleaning up one's diet.
Dr. Neal Barnard says that a meat-based diet also causes diabetes. Not sugar. Not carbohydrates. It is rather the buildup of animal fat in the blood. Our bodies need sugar for energy but the sugar cannot get into our cells. With fatty blood vessels, our cells become unable to absorb the sugar that naturally occurs in foods and that's what leads to insulin resistance. Our focus on avoiding sugar has taken the focus off of flesh foods and dairy products, which are what make our cells insulin resistant. What the Health has a great animation that illustrates this process.