Despite spending the highest on health care costs per capita in the world, the United States' life expectancy growth rate has been surpassed by many other developed countries. This raises a couple questions about the state of health. Could this trend correlate with the for-profit health care system that exists here in the U.S., or be because of the growing economic gap that exists between American upper and lower classes?
Click here to enlarge or print infographic

FFH-Life-Expectancy-version-2-Feb-22-2016

Supporting Data
Life expectancy comparisons between 1975 and 2010 between countries: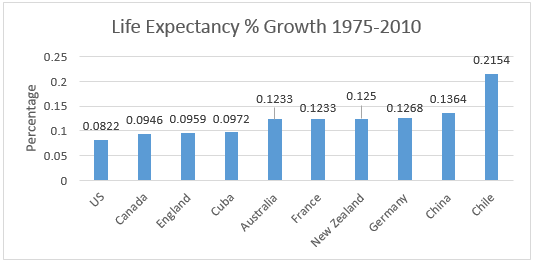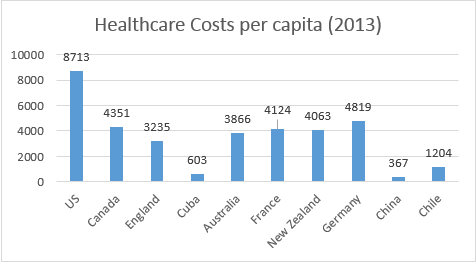 Stay Informed. . . Stay Healthy!
Resources:
---
Health Care Spending in the News
The Commonwealth Fund, October 8, 2015:
EXCERPT: Health care spending in the U.S. far exceeds that in other countries, despite a global slowdown in spending growth in recent years. At 17.1 percent of GDP, the U.S. devotes at least 50 percent more of its economy to health care than do other countries. Even public spending on health care, on a per capita basis, is higher in the U.S. than in most other countries with universal public coverage.
How can we explain the higher U.S. spending? In line with previous studies,19 the results of this analysis suggest that the excess is likely driven by greater utilization of medical technology and higher prices, rather than use of routine services, such as more frequent visits to physicians and hospitals.
High health care spending has far-reaching consequences in the U.S. economy, contributing to wage stagnation, personal bankruptcy, and budget deficits, and creating a competitive disadvantage relative to other nations.20 One potential consequence of high health spending is that it may crowd out other forms of social spending that support health. In the U.S., health care spending substantially outweighs spending on social services. This imbalance may contribute to the country's poor health outcomes. A growing body of evidence suggests that social services play an important role in shaping health trajectories and mitigating health disparities. Additional cross-national research is needed to better understand the relationship between social services and health, as well as other health determinants like lifestyle and environment.
New care models that reward health care providers based on their patient population's health outcomes (e.g., accountable care organizations) are an interesting development. Such accountability could create a business case for health care providers to invest in certain social services or other nonclinical interventions, if doing so would be a cost-effective way to improve patients' health. Over the long term, such a strategy could potentially alter the current balance between health and social services spending.

Join the Conversation
your thoughts matter