Being raised with Irish grandparents and cousins, a cup of tea was the answer to every question. The kettle was ever on the boil as there was always someone having a cup of tea. By the time I was a young adult, I was drinking at least 20 cups of tea a day. I was hooked on the buzz that it gave me. To break my tea addiction, I switched to coffee, which at the time tasted disgusting to me. But, like those first few cigarettes, you soon find yourself liking your drug of choice.
Once I acquired a taste for it, I had replaced my tea habit with coffee. I began working fulltime in Manhattan where everyone drank coffee all day. And, those workdays were at least 12 hours long. I easily drank 2-3 pots of coffee during the course of a day. Yeah, you read that right. I was this close to a caffeine IV drip.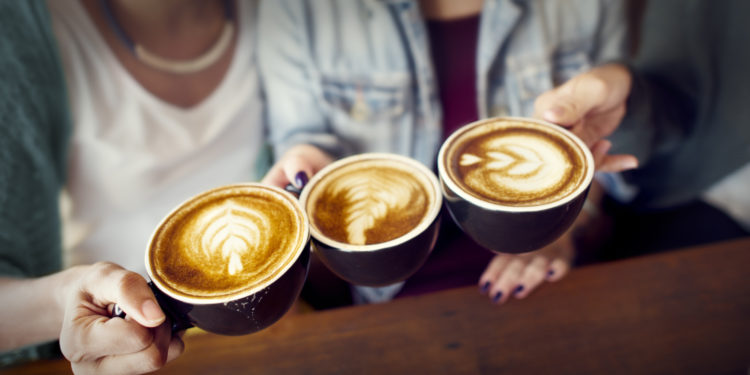 It didn't seem unusual to be a coffee addict. Everyone in NYC moved at light speed, and you always needed to be sharp. Coffee helps with all of that. I found though that I couldn't drink it past 5pm because it would make sleep almost impossible. I cut down my coffee habit quite a bit since those days. But, I was still drinking about 2-3 mega-sized mugs throughout the morning.
On July 1st of this year, I went to a meditation retreat that only served herbal tea. We were advised to wean ourselves off the bean before attending. I didn't get a chance to do that so I quit cold turkey. Because I was meditating and doing yoga every day, it was all good. I didn't get headaches or even miss the coffee and I was getting a LOT of rest. When I returned home, I decided to keep up with the abstinence to see how long I could go. As it turns out, I made it all through the month. But, on July 31st, I looked back on the month and after much deliberation, I decided my life was better with coffee.
I had thought eliminating caffeine would reduce my anxiety. Turns out I felt even more anxious because I was sluggish and lethargic. I thought that I would sleep better without coffee. Turns out, I was waking before my alarm and getting even less sleep than usual. And, I was so tired in the morning. I also noticed that I was feeling down in the middle of July for no apparent reason. Being in the healthcare field, I wanted to find out whether or not coffee consumption was better or worse for me. There are data to support both sides. So, let's see what the experts say.
Turns out that coffee has some nutritional value. It has vitamins & minerals that become somewhat substantial if you drink several cups a day. Coffee is also a powerful antioxidant. And, as a stimulant it boosts your metabolism. Not a bad thing. There are also mental health benefits – your mind is sharper. Who wouldn't want that?
"Caffeine is the single most widely consumed psychoactive substance in the world," says Warrior Coffee. Warrior Coffee sells their own proprietary coffee which I have not tried so I am not endorsing here. But, they've done their research on the benefits and risks of coffee consumption. So, I'm including their list and I've added some of the other sources' findings in one easy to read chart. My references are embedded. While I'm at it, let's hear from the coffee critics. What do they have to say? Are their conclusions bad enough to outweigh the benefits of coffee? Let's do this.
COFFEE PROS vs CONS
PROS
CONS
Caffeine can lead to psychiatric symptoms like anxiety, depression, & sleeplessness in certain individuals 3, 4
Caffeine can cause heart palpitations & panic attacks in those sensitive to stimulants 3
Addictive & causes withdrawal symptoms such as headaches & irritability for several days after quitting
Raises LDL cholesterol if made w/o using paper filtration to filter out the cafestol compound 9
If you enjoy your coffee with sugary and/or chemically-derived flavoring you may be overriding the health benefits of drinking coffee. Don't make your morning cup of Joe into an unhealthy pound packer.
POSITIVE IMPACT ON HEALTH
NUTRITIONAL VALUE of one 8oz (240 ml) cup 21, 22
Vitamin B2 (Riboflavin): 11% of the RDA
Vitamin B5 (Pantothenic Acid): 6% of the RDA
Vitamin B1 (Thiamin): 2% of the RDA
Vitamin B3 (Niacin): 2% of the RDA
Folate: 1% of the RDA
Manganese: 3% of the RDA
Potassium: 3% of the RDA
Magnesium: 2% of the RDA
Phosphorus: 1% of the RDA
SOURCES
Well, that was enlightening. I had no idea there were so many healthy benefits to drinking coffee. I guess that's why it's been such a popular beverage for centuries.
Bottom line. Use common sense when using caffeinated products. If you are finding you can't fall asleep at night, don't drink coffee after noon and see if that helps. If you find that after a few cups of coffee, you feel anxious, try cutting back and observe the difference. Find your sweet spot. And, finally, consult with your doctor about whether your health is at risk by drinking coffee.
Everyone is different. You may find your morning beverage of choice is black or green tea. Both of these teas have health benefits and have been used for thousands of years. Learn to listen to your body.
Have you tried and failed to give up coffee? Or have you succeeded in giving up your morning jolt? I'd love to hear your experiences with caffeine, good or bad. Please comment below.
---

Join the Conversation
your thoughts matter