Dr. David Lewis
Inspectors General are charged with preventing waste, fraud, and abuse by the federal government. John C. Martin, who President Reagan appointed as EPA's IG in 1983, did just the opposite. In 1991, under pressure from Congressman John Dingell to turn up prosecutions for congressional hearings, Martin investigated EPA's Office of Research & Development (ORD), including at its lab in Athens, Georgia. Martin resigned in 1997 when EPA learned Reader's Digest and the Atlanta Constitution were publishing damning evidence I gathered concerning his dismantling of scientific integrity at EPA. This is the second in my series of articles about failures in EPA leadership.
EPA's disturbing leadership – Dr. David Lewis

Click to read Dr. Lewis' first article on on EPA Leadership | EPA ignored warnings from its own scientists in the late 1970s when it approved a . . .
ORD was originally comprised of twelve independent field labs that answered directly to an Assistant Administrator appointed by the President. They constituted EPA's first line of defense against political and corporate influence, which undermine the integrity of the body of science upon which public health and the environment rest. Until President Clinton took office in 1993, EPA was not allowed to pass any regulation without ORD's concurrence. Whenever regulations developed by EPA's program offices lacked a solid foundation in science, ORD labs pushed back.
Martin laid the groundwork for the Clinton administration to reorganize ORD's field research under politically controlled mega-labs. In 1996, Nature published my commentary, "EPA Science: Casualty of Election Politics," in which I described how Martin laid waste to EPA's scientific integrity. I wrote:
"Allegations of mismanagement abounded as the director of the EPA's research laboratory in Duluth, Minnesota, the first of several laboratories to be investigated, was fired and other managers and scientists were either dismissed or sent on leave without pay. They were, however, reinstated by federal judges, who ruled that the agency's allegations were without merit and that investigations had been carried out in bad faith."
In Athens, Dr. J. MacArthur (Mac) Long and his wife were awakened one night as Martin's agents and a U.S. Attorney banged on their front door. They informed Mac he would be criminally prosecuted unless he agreed to wear a hidden microphone to gather information on his laboratory director. Martin promised his agents monetary awards for cases involving high-ranking EPA officials and media attention, which helped Dingell's chances for re-election.
The Georgia Bureau of Investigation, which assisted EPA's Office of Inspector General, wanted Mac to question his director outside the building. It promised to have agents hiding in the shrubbery, ready to spring into action if she smelled a rat and tried to physically harm him. None of EPA's scientists cooperated in Martin's sting operations. For refusing to cooperate, the Justice Department charged Mac with "benefiting from the wrongdoing of an unnamed third party." To curtail mounting legal expenses, and avoid fines that could financially cripple him for life, he borrowed $24,000 to settle with the Department of Justice.
Dr. Lewis' article posted in The Oconee Enterprise – Click to enlarge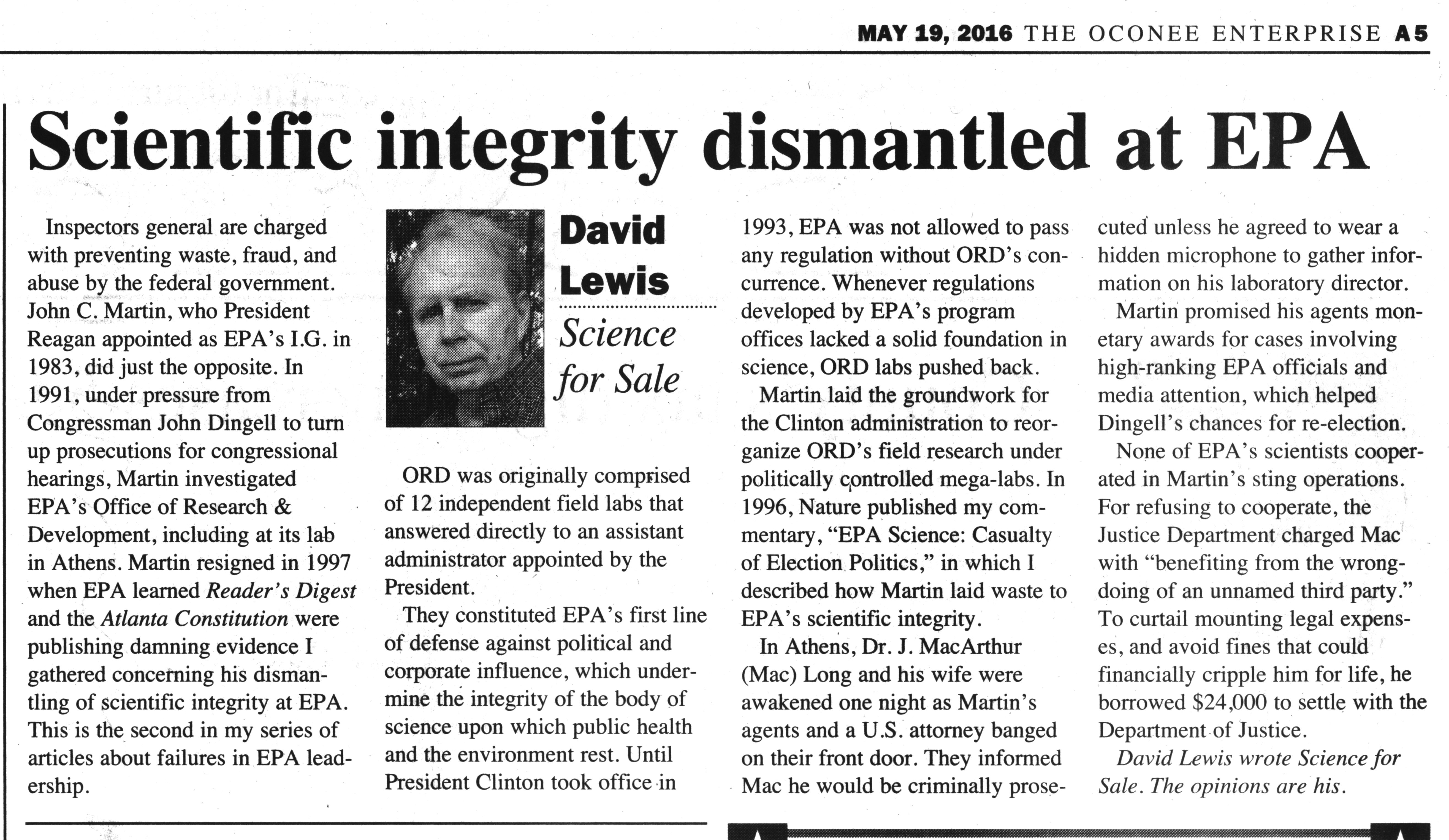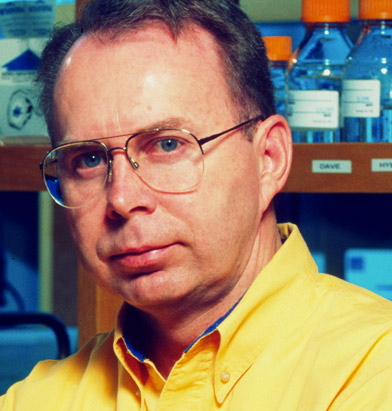 David Lewis, Ph.D.
Former U.S. EPA Research Microbiologist
David Lewis is an internationally recognized research microbiologist whose work on public health and environmental issues, as a senior-level Research Microbiologist in EPA's Office of Research & Development and member of the Graduate Faculty of the University of Georgia, has been reported in numerous news articles and documentaries from TIME magazine and Reader's Digest to National Geographic.