Tracing Impact Series | FFH highlights their partners' work
---
NHFC: Working towards access for all people to the health care products, practitioners, and treatments they choose.
National Health Freedom Coalition has worked on many fronts to preserve access to health freedom for all Americans. NHFC educates individuals on GMO labeling, because people have the right to know what is in their food. NHFC also educates on vaccine exemptions, because parents have a right to make medical decisions for their children.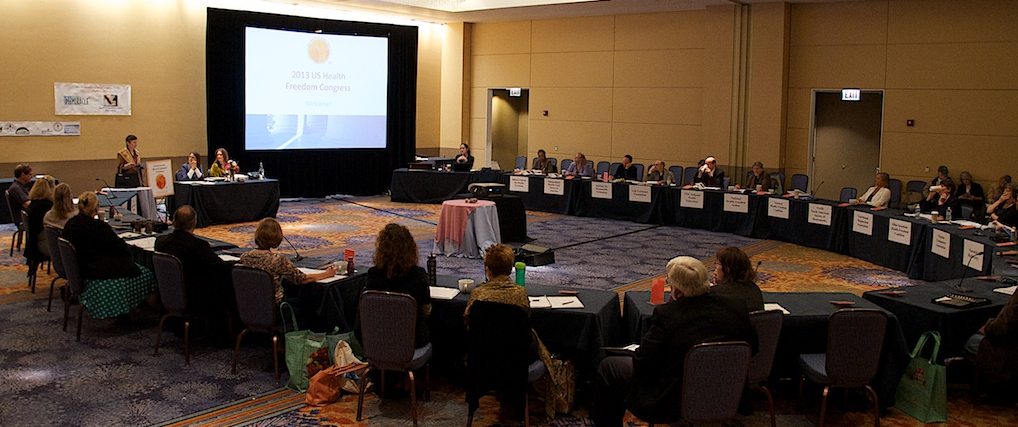 NHFC's accomplishments in 2015
NHFC has continued to educate citizens in many states on holistic practitioner's right to practice. This past year saw the passage in Nevada of the tenth safe harbor law in America, giving practitioners in those states an exemption from medical practice acts. Congratulations Nevada!
NHFC has been active in over 30 states, helping to launch and guide state health freedom groups, NHFC trains individuals and groups on how to get active to make the changes in their states to enhance health freedom.
US Health Freedom Congress's tenth annual gathering in 2015 was held at Hamline University in St. Paul, where over twenty health freedom organizations and forty additional organizations and participants representing millions of health freedom-conscious Americans came together to discuss urgent concerns for health freedom.
The Open Space Sessions, facilitated by Denise Lewis Premshak of Voice for HOPE, gave leaders an opportunity to voice their priorities, create focus groups, and develop stategies. This approach to dialogue was extremely successful in bringing people together, and led to NHFC being asked to facilitate similar discussions among vaccine freedom advocates in California.
Each year NHFC presents Health Freedom Awards to four outstanding leaders in the community. The awardees for 2015:
Jim Jenks, Sunshine Health Freedom Foundation, Nevada Coordinator AWARDED "For his long-term, outstanding leadership for health freedom in Nevada, promoting and protecting access to herbalists and all of natural health care, and for his many years of vigilance in protecting health freedoms in Nevada which led to the passage of Nevada's 2015 A.B. 295, the new 'Provision of Wellness Services' law."
Pete Kennedy, JD, Farm-to-Consumer Legal Defense Fund, Raw Milk Advocacy AWARDED "For his leadership and dedication in supporting raw milk advocates in numerous states, and acting as a central hub of information and support for the protection and promotion of access to raw milk products in the U.S. and in celebration of the impressive successes of access to raw milk in 2015, as Connecticut became the sixth state to pass legislation increasing access to raw milk."
Frank Wallace, Wyoming Food Freedom AWARDED "Accepted by Frank Wallis 'for the many people who lobbied, made phone calls, sent emails, attended hearings, and testified over the period of many years in order to have the Wyoming Food Freedom Act enacted in our state.' NHFC congratulates Frank and his team for six years of rigorous work on the Wyoming Food Freedom Act (WFFA), passed into law on March 3, 2015, setting the bar high for efforts at similar legislation elsewhere in the United States of America. Under the WFFA, the production and sale within Wyoming of any food except meat products by a producer direct to the "informed end consumer" is not subject to licensing or inspection."
Brian S. Hooker, PhD, PE Professor, Scientist, CDC Whistle-blower Communicator AWARDED "For his diligent work as a scientist and investigator who uncovered many instances of fraud and malfeasance in the CDC's vaccine safety program and most recently enabled exposure of blatant scientific misconduct through the CDC whistle-blower, Dr. William Thompson."
Stay Informed. . . Stay Healthy!
---

Join the Conversation
your thoughts matter