April 13, 2016
Impact Series | FFH highlights their partners' work
Thanks to Robert De Niro, the tragedy of vaccine injury and CDC secrecy is getting the kind of attention it deserves.
In 2014, William Thompson, the "CDC Whistleblower", released a statement from his lawyers claiming that he and other researchers "omitted statistically significant information" from their 2004 study funded by the CDC. The flawed study was used to support their position that there was no link between vaccines and autism.
This study, which was published in 2004, was sanctioned by the CDC because two scandals were causing U.S.parents to question vaccine safety. These two scandals were Andy Wakefield's 1998 study and a 2000 study by Thomas Verstraeten. The Verstraeten study found no correlation between thimerosal and autism, but is known for it's changing protocols and internal study findings that have not been shared with the public.
Andrew Wakefield was stripped of his license despite his accuser, Brian Deer, being discredited. Since then, his name has been used as a way to discredit anyone who questions vaccines or the vaccine schedule.
Thompson's statement and released documents received minor attention when Florida Congressman, William Posey addressed Congress, but no action was taken. Ben Swann interviewed previous CDC employees about Thompson's story and again, nothing happened.
This year, a documentary directed by Wakefiled and produced by Del Bigtree was accepted into the Tribeca Film Festival. Tribeca's Founder, Robert De Niro, originally supported the film's showing despite pressure.
"Grace and I have a child with autism and we believe it is critical that all of the issues surrounding the causes of autism be openly discussed and examined. In the 15 years since the Tribeca Film Festival was founded, I have never asked for a film to be screened or gotten involved in the programming. However this is very personal to me and my family and I want there to be a discussion, which is why we will be screening VAXXED."
A couple days later De Niro retracted:
"After reviewing" the film "over the past few days with the Tribeca Film Festival team and others from the scientific community, we do not believe it contributes to or furthers the discussion I had hoped for. "The festival doesn't seek to avoid or shy away from controversy. However, we have concerns with certain things in this film that we feel prevent us from presenting it in the Festival program. We have decided to remove it from our schedule."
This morning, De Niro made an appearance on Today. He was clearly upset as he tells Today how he feels about the situation.
"[…] I'm so upset here. Today on Today Show with you guys means there is something there. All I wanted was for the movie to be seen. People can make their own judgement. But you must see it."
Large pharmaceutical corporations have too much influence and are able to censor main stream media, which extends to the Tribeca Film Festival. FFH supported this film, and is glad for the attention that De Niro has brought to the conversation about transparency in government and vaccine safety.
"Andy Wakefield's new film Vaxxed was slated to premiere at Tribeca in April, but was pulled from the film festival under pressure from sponsors with ties to pharmaceutical companies. Sounds like a big win for Big Pharma, but I'm not so sure. The film is getting decent media attention, and will likely gain more viewers due to the controversy surrounding the censorship."
Watch De Niro here: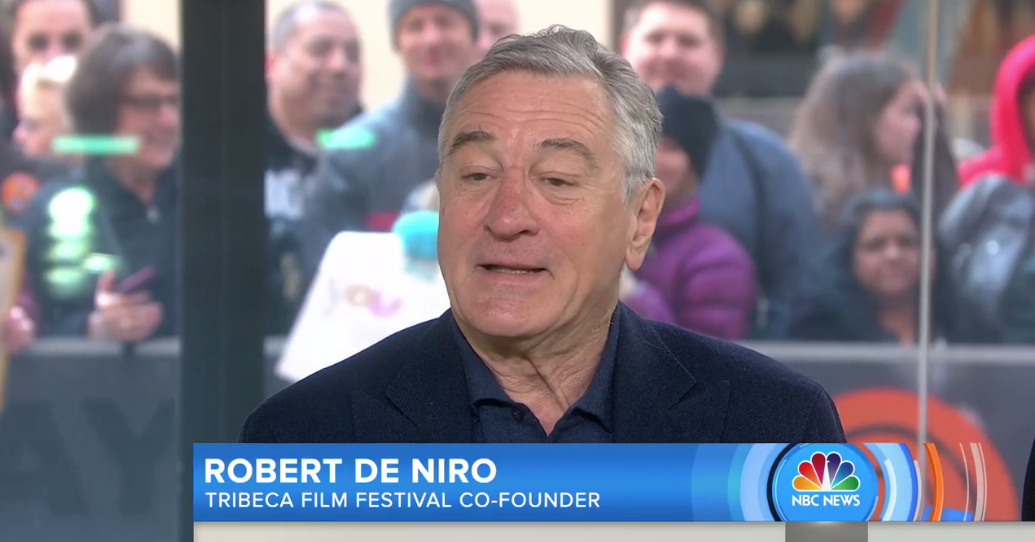 Stay Informed. . . Stay Healthy!
---

Join the Conversation
your thoughts matter
April 13, 2016 | TODAY | Robert De Niro Excerpts
"I think the movie is something that people should see. There was a backlash which I haven't fully explored and I will. But I didn't want it to start affecting the festival in ways that I couldn't see. But definitely there is something that movie and there is another movie called Trace Amounts and there is a lot of information about things that are happening with the CDC, the pharmaceutical companies. There is a lot things that are not said. I, as a parent, have a child who has autism. I'm concerned. I want to know the truth and I'm not antivax. I want safe vaccines. Some people can't get a certain type of shot and they can die from it. Even penicillin. So why should that not be the vaccine, which it isn't."
"The thing is, to shut it down, there is no reason to. If you're scientists, let's see. Let's hear. Everybody doesn't want to hear much about it. It's shut down. And you guys are the ones who are supposed to be investigating [Points to Today's reporters]. Do the investigating."
"It's not questioning how some people got autism, how the vaccines are dangerous to certain people who are more susceptible [discussing another autism related documentary]. You know? No one seems to want to address that. They say they've addressed it and it's a closed issue but it doesn't seem to be because there are many people who will come out and say, "No, I saw my kid change like overnight. I saw what happened and I should have done something but I didn't." So, there is more to this than meets the eye. Believe me. "
"There is something there. There is something there that people aren't addressing and for me. I'm so upset here today on the Today show with you guys means there is something there. That's all I wanted was for the movie to be seen. People can make their own judgement. But you must see it and there are other films, other things just document and show. You know. Its not such a simple thing."
"I didn't want the festival to be affected in a way because it was like a knee jerk reaction. Especially from the film makers, frankly. […] Whoever they were, I didn't even want to ask, but now I will ask."
"There is a link. They're saying there isn't but there is. There are certain things, the obvious is thimerosal, which is a mercury based preservative. But here are other things there that I don't know, I'm not a scientist but I know because I've seen so many reactions about it. Let's just find out the truth. Let's just find out the truth. I'm not anti-vaccine as I say but I'm pro safe vaccine and there are some people can not take a vaccine and they have to be found out and warned. You just don't give a kid a bunch of shots and then something happens. Some parents even in this documentary say, "I knew I shouldn't have done it, I knew I shouldn't have done it. I talked to the doctor. He's the doctor, I should listen, I should listen, I did it, the next day [slaps hand]. Image how the parent feels."
"There is a kind of hysteria, knee-jerk reaction. Let's see, as I say, everyone should have a choice to take a vaccine. Some places it's becoming mandatory. But it does benefit the big drug companies funnily enough."