Proud to Support Series

Founded in 1999, POAC's mission is to improve the lives of children and adults with autism by providing scientifically-based training to parents, teachers, and other direct service providers. POAC supports ongoing quality research on the causes of autism, its symptoms, prevention and a potential cure.
HOW WILL POAC ACCOMPLISH ITS MISSION?
POAC will utilize experts in the field to train teachers in the principles of applied behavioral analysis, direct instruction, and other teaching procedures based on research that have proven to be effective for teaching children with autism.
Some of POAC's accomplishments are as follows:
POAC is the largest provider of FREE autism training and education in the state of NJ
POAC funded the first statewide program for the early detection and intervention of children with autism
POAC provides FREE family recreational activities all year long including: surfing, horseback riding, movies, indoor gym days, bowling and pizza parties, and our Annual FREE Family Picnic/Carnival, one of the biggest autism family events in the country
POAC provides FREE training for parents and families to help increase functional communication, decrease problem behavior and increase socialization for their children with autism
POAC increases public awareness of the disorder and its effects on individuals, families, public schools, and society
POAC provides FREE training for law enforcement and emergency responders in autism recognition and response in every NJ county POAC addresses, supports, and promotes legislative issues that affect those with autism and their families
POAC provides a FREE speakers bureau to groups throughout the state POAC provides outreach and training in autism to middle school, high school, and college students in New Jersey
POAC does not charge a penny for any of these services and receives no government funding The needs of the autism population are ever growing.
POAC is dedicated to meeting those needs and is continually expanding to help these children, adults, and their families where they are right now.To date, thousands of parents, teachers, and other service providers have been trained. Law Enforcement Officers and First Responders in every New Jersey county have been trained in autism recognition and response and in at least one case, the training has been life-saving.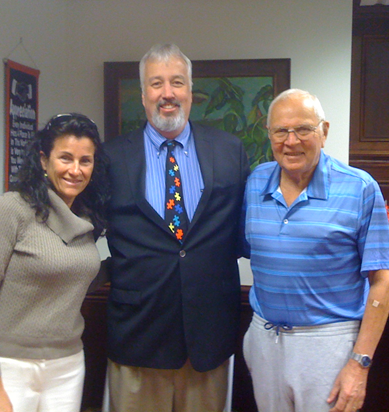 POAC has reached out to colleges and universities and provided course work to students studying to be special education teachers. All of this is accomplished without government funding, it is all done through the generosity of those who contribute to POAC fundraising activities. Making a difference in the lives of children now is at the heart of everything we do at POAC. For the thousands of children with autism who benefit from our services and programs every year, POAC has become a bastion of support and a beacon of hope.
Image right: POAC's Simone Tellini and Gary Weitzen with FFH Founder, Barry Segal
Based in New Jersey, POAC is a resource for parents with autistic children and the community.
For Parents. . .
Member Support Group Meetings
Hidden Dangers: Keeping Children with Autism Safe in the Home, School, and Community
Creating Meaningful IEP Goals
Advocacy Boot Camp: Advanced Advocacy Strategies for Parents of Students with Disabilities
Managing Problem Behavior
Lunch and Learn: For Parents of Newly Diagnosed Children
Dental Orientation Program for Autistic Children
For the community POAC offers autism training opportunities and education for. . .
Air Marshals and TSA
School Bus Drivers
EMS
Para Professionals
Police
Life Guards
Preschool Providers
Hospital Professionals
School Nurses
School Staff
College Students
Click here for POAC's training calendar
or here for their calendar of family events and recreation.
---
Please visit www.poac.net for more information about POAC and the source information for this page.