2015 | Science and the Public Interest
The Greensboro Project represents a new approach for informed citizens to deal with potential threats to protect public health and the environment. Concerned citizens joined forces and filed suit to stop a brownsfields redevelopment project approved by EPA and the State of Georgia. Plaintiffs settled the lawsuit by allowing the project to proceed on schedule in return for the developer permitting independent monitoring and testing of the site by the plaintiffs' own expert. Such additional, independent oversight can potentially serve the public interest while also ensuring government and industry accountability in preserving public health especially in relation to biosolids, environmental toxins.
"At a time when every aspect of our daily lives is touched by science it must be of concern that segments of the public have lost trust in it and are rejecting well-established scientific facts, such as climate change. While there are many contributing factors, Dr. Lewis turns the spotlight on the role of governments and scientific institutions. His book is certain to provoke discussion and deserves to be considered carefully."

Member of the Royal Society of London, University of Bristol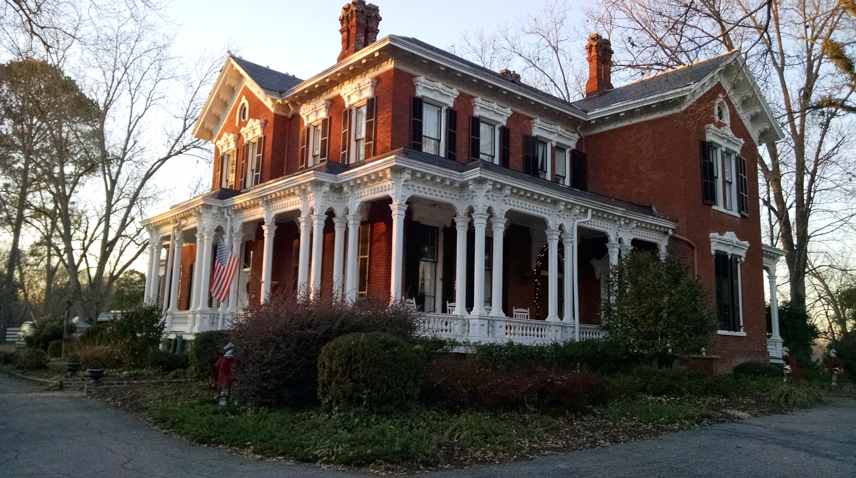 How The Greensboro Project Began
by David L. Lewis, Ph.D.
From the front porch of their Italianate-style mansion built by Confederate General Charles Davis in 1874, David King and his wife Janet can hear trains blow their whistles as they pass by a Civil War-era cotton mill. In the Old South, textile mills used mercury to make hats and other felt products. Workers exposed to the highly toxic metal often experienced "hatters shakes" from its neurological effects. It's where Batman's nemesis, the Mad Hatter, got his name.
David King, who spends much of his time managing the 52-acre estate near downtown Greensboro, Georgia, graduated from Notre Dame and worked as a chemist for Dow Chemical Company. He's very familiar with the adverse health effects of mercury, which is why he's worried about what still lies buried beneath the old mill. But not so much for himself. He and his wife are concerned about people suffering from poverty and mental illnesses who will be living on the site as part of a brownfields redevelopment project approved by Georgia's Environmental Protection Division and the U.S. Environmental Protection Agency. A brownsfields site is "real property, the expansion, redevelopment, or reuse of which may be complicated by the presence or potential presence of a hazardous substance, pollutant, or contaminant" (www.epa.gov/brownfields/overview/glossary.htm).
Developers from out of town are tearing down the old mill to build government-subsidized housing. The site, known as the Mary Leila Lofts Project, lies next to an abandoned landfill, and is contaminated with at least thirty EPA-listed priority pollutants, including lead, PCBs and benzo(A)pyrene, which are known to cause neurodegenerative disorders, cancer and birth defects. The source of many of these pollutants may be sewage sludge, a.k.a. biosolids, that was too toxic for application to farms, forests and other pubic and private lands under EPA's 503 sludge rule (https://www.focusforhealth.org/biosolids/). Sewage sludges containing highly complex mixtures of heavy metals, and highly persistent, toxic organic chemicals are commonly dumped in landfills.
If the project turns a profit, other developers will undoubtedly start applying for government funding to move poor and mentally ill patients living in predominately black communities to the mercury-contaminated mill sites under EPA's Brownfields Program, which the federal agency has delegated to Georgia and other states. China currently leads the way in building government subsidized housing on land that has become too contaminated for agricultural and other uses. According to Yale Environment 360, a publication of the Yale School of Forestry & Environmental Studies, 24.7 million acres of China's arable land, 8.3 percent of China's total, has become too polluted for agricultural use as of 2006; but the government has been slow to understand the seriousness of the problem.1 Cleanup costs are currently estimated at $1.6 trillion. The Kings and several of their neighbors sued the developers then settled out of court. If they have their way, the developers will go broke and end up in prison if they violate the Clean Water Act or any other federal or state laws. Yet despite the large number of contaminants and the risk to the future residents, there's no stopping the development. The reason is that, in a great many cases, EPA doesn't police the application of toxic chemicals to land once they're mixed with treated sewage sludges, a.k.a. "biosolids."
Under its 503 sludge rule, EPA has exempted all organic chemicals and all but a few heavy metals. In the 1960s and 70s, Congress passed the Clean Air Act, followed by the Clean Water Act, in response to overwhelming concern about the effects of toxic pollutants like the ones at the Greensboro mill site. But decades later there is still no comparable action by Congress to protect soil, which is equally important. As the battle being waged in the little town of Greensboro shows, the lack of a Clean Soil Act is a major gap in both environmental protection and environmental justice.
The contaminated Greensboro development may have been impossible to stop under current laws, but the case did remain tied up in hearings long enough for the Kings to persuade the developers to settle by approving a plan for me to monitor toxic wastes in soils, sediments and water at the old mill site for the next three years, including in a creek that crosses one end of the site. The creek is important. It flows directly through a poor Hispanic neighborhood where children play. From there, it discharges the mill contaminants into Lake Oconee where Mercer Reynolds III, the finance chair of President George W. Bush's presidential campaign, created a golf community called Reynolds Plantation.
Ironically, Bush appointees at EPA had terminated me in 2003 for publishing articles in Nature that raised concerns over EPA policies that disproportionately target educationally and economically disadvantaged communities for spreading pollutant-rich biosolids. My coauthors at the University of Georgia and I were the first to document illnesses and deaths linked to biosolids and report in the scientific literature that vulnerable populations are being disproportionately targeted. Federal protection of land on par with that given to air or water doesn't exist. And it's always those with the fewest resources and the fewest choices, like the residents living downstream from the mill site, and those who will be moving into the government-subsidized housing built on the site, who will end up paying the price.
Preliminary Results
To indicate whether any of the 30 EPA-listed priority pollutants found at the Mary Leila Lofts site are polluting the two creeks, David King and I sampled soils and creek sediments, and had the samples analyzed by the University of Georgia Extension Services. The results demonstrated that lead at the mill site is contaminating both Mill Creek, which traverses the old mill site, and Richland Creek, which Mill Creek joins and then flows into Lake Oconee (Fig. 1, 2).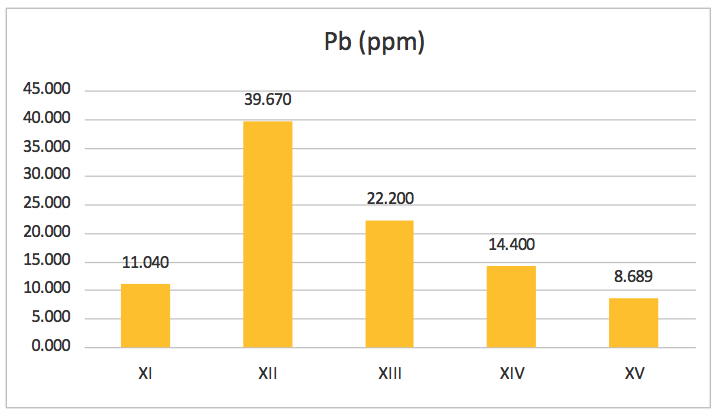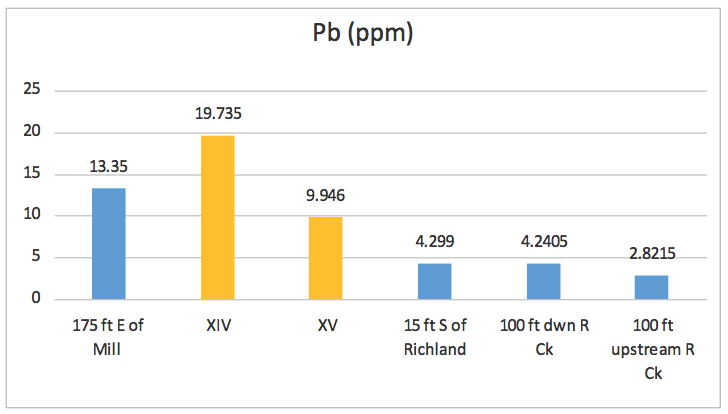 Most of the lead contamination was due to a construction accident in which developers ruptured an unmarked water main supplying the downtown area of the City of Greensboro (Fig. 3). Water from the ruptured water main washed contaminated soils directly into Mill Creek. The water main ruptured in the same area that David King and I had collected soil cores across a transect that ran from the base of an old water tower painted with lead paint down to Mill Creek (Fig. 4). To remove the ruptured water main, the developers excavated a large area of lead-contaminated soil several feet deep (Fig. 5).
Report to EPA Region 4
On April 5, 2015, I reported our preliminary results to EPA Region 4 in Atlanta, disputing certain false claims that the developer and its environmental consulting firm had made to EPA.2 Evidence submitted with my report included my photographs and video of the extensive excavation at the mill site, and contaminated soil washing into the creek. Based on this evidence, I included the following statements:
[The consulting firm] claims that the rupturing of the City water main occurred in an area of the Mary Leila Lofts Project that is not contaminated with lead and other EPA-listed priority pollutants, and that the resulting flooding did not cause lead and other hazardous chemicals to spill into Mill Creek. [It] also claims that no excavation of soil contaminated with hazardous chemical wastes has occurred at the site. All three of these claims are false and misleading.
Soil at the Mary Leila Lofts Project site contains as much as 8,360 ppm of lead. That is over 8 grams of lead per thousand grams of soil. Georgia Rules for Safe Drinking Water, Section 391-3-5-.25(7), would apply to the rupture of a water main at a site contaminated with hazardous chemical wastes. These rules, which are based on EPA guidance, require action if lead concentrations in more than 10 percent of tap water samples exceed 0.015 ppm (mg/L).
Lead levels, while important in their own right, also indicate the potential for high levels of 29 other EPA-listed priority pollutants at the site to flush into the creek during construction. These pollutants include carcinogens, mutagens, and endocrine disrupting chemicals known to cause cancer, birth defects and other serious adverse health effects.
Apparently, [the developer never] reported the ruptured water main to the Georgia EPD or U.S. EPA. It may be too late now to determine whether residents in the City of Greensboro consumed harmful levels of any of the priority pollutants buried at the mill site.
[The Developer's] claims that there has been no excavation of contaminated soil performed at the site to date, and that testing has not identified any contaminated soils in this area of the site, are simply untrue. As is clearly evident from comparing Figures 1-3D, flooding from the broken water main occurred in the northwest corner of the Mary Leila Lofts Project, which lies between the water tower, Mill Creek, and the northern end of the building that is currently being demolished.
[The consulting firm's] data purport to show that, although reportable levels of mercury were found in all groundwater samples collected from five wells drilled at the Mary Leila Lofts mill site, no reportable levels of mercury existed in any soil samples collected above the groundwater. Scientifically, it's not possible for soil, which is the source of reportable levels of mercury in groundwater, to have no reportable levels of mercury.
[The developer] thwarted efforts to phytoremediate the site by insisting that I submit a specialized landscape plan required by the City of Greensboro and State of Georgia for disturbing soils within the 25-foot State buffer zone that, ironically, is designed to protect the creek. Although I informed [the developer] that my landscape plan did not require planting within the buffer zone, it never approved the plan. This plan, had it been approved, would have offered Mill Creek a substantial degree of protection from the pollutants now seeping into the creek as a result of the ruptured water main.
When boring a transect of ten holes between the water tower and creek buffer zone, we encountered a densely packed clay barrier that rises to within a couple of feet from the surface. This barrier appears to be protecting the creek from being heavily contaminated with most, if not all, other priority pollutants at the mill site. The Redevelopment Plan approved by [Georgia], however, calls for this area to be excavated down several feet or more. [D]estroying the clay barrier would likely open a new pathway for pollutants buried at the mill site to enter the creek [and] construction workers have already begun to excavate the portion of the clay barrier where we discovered high levels of lead in our transect of soil samples.
EPA Response
According to internal EPA communications, EPA Region 4 has no interest whatsoever in any evidence of problems at the Mary Leila Lofts mill site. Internal communications obtained under the Freedom of Information Act, for example, show that Barbara Alfano, the Brownfields Coordinator for EPA Region 4, sent the following email to the Georgia Department of Natural Resources (DNR) on April 30, 2015:
The last thing I want to do is bother you about this site again. But I need to prepare another response again for our [Regional Administrator's] signature to reply to Mr. Lewis about the brownsfields site in Greensboro. I want to provide an updated status of the site under the state's program. Cab you send me something by next week?
On May 4, Ms. Alfano thanked the DNR for having the developer's environmental consulting firm provide EPA with a response to my letter. She wrote:
Thank you immensely … Just after I received your email, I found the hard copy of the [consulting firm's] letter response with attachments dated April 17, to the EPA in my mailbox. With your email and the [consulting firm's] response, I can prepare EPA's response to Mr. Lewis's letter. If I do any follow-up with the [consulting firm] in order to prepare my response, I will let you know.
On May 28, I received a response from the EPA Region 4 Administrator, which parroted the consulting firm's criticisms of the University of Georgia's analytical data. And, based on the consulting firm's April 17 letter to EPA, and a telephone conversation EPA had with the firm on May 6, she simply replied that the firm stated "no remediation, including excavation of contaminated soil, had taken place at the mill property." Their word obviously trumps my photographs and video of the extensive excavation at the site, and contaminated soil washing into the creek.
My Comments
In 2008, the Union of Concerned Scientists surveyed hundreds of EPA scientists and found that over half had been asked by EPA superiors to change their results or conclusions in papers.3 Not surprisingly, in a 2004 study I published in Environmental Health Perspectives, a peer-reviewed journal of the National Institutes of Health, residents exposed to sewage sludges (biosolids) applied to land in accordance with EPA regulations had "little trust in federal and state environmental agencies to provide a reliable scientific evaluation of potential public health and environmental effects."4
The EPA's cozy relationship with the developer and its consulting firm at the old mill site in Greensboro is a good example of why the public no longer trusts federal and state agencies to protect public health, especially where economically and educationally disadvantaged communities are concerned. Government officials are looking out for their own interests. When evidence of a problem arises, just like Ms. Alfano demonstrated, the government doesn't want to hear from you or me. They just want to get the people on the phone who are making money off the situation and hear what they have to say.
Our final test results are anticipated for release in a peer-reviewed scientific journal this coming Fall 2015.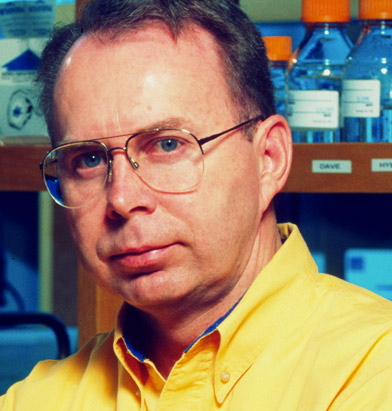 David Lewis, Ph.D.
Former U.S. EPA Research Microbiologist
David Lewis is an internationally recognized research microbiologist whose work on public health and environmental issues, as a senior-level Research Microbiologist in EPA's Office of Research & Development and member of the Graduate Faculty of the University of Georgia, has been reported in numerous news articles and documentaries from TIME magazine and Reader's Digest to National Geographic.
Written in conjuction with:
David W. King
Former Chemical Engineer, Dow Chemical Company
Throughout his career, David King has served in a variety of manufacturing and technology roles in Europe and North America, including numerous positions in plant reliability, maintenance, technology development, plant construction, commissioning start-up, research and development, process design and process control.
References
Tainted Harvest: An e360 Special Report/Part I. China's Dirty Pollution Secret: The Boom Poisoned Its Soil and Crops. June 30, 2014. http://e360.yale.edu/feature/chinas_dirty_pollution_secret_the_boom_poisoned_its_soil_and_crops/2782/
[Letter] DL Lewis to Heather McTeer Toney, Regional Administrator U.S. EPA Region 4, April 5, 2015.
Union of Concerned Scientists, Cambridge, MA. Hundreds of EPA scientists
report political interference over last five years. Apr. 23, 2008.
(www.ucsusa.org).
Gattie, D.K. and D. L. Lewis. 2004. A high-level disinfection standard for land-applied sewage sludge (biosolids). Environ. Health Perspect. 112:126-31.

Join the Conversation
your thoughts matter
environmental toxins