Research Microbiologist, Science Advisory Board Member of Focus for Health
David Lewis is an internationally recognized research microbiologist whose work on public health and environmental issues, as a senior-level Research Microbiologist in EPA's Office of Research & Development and member of the Graduate Faculty of the University of Georgia, has been reported in numerous news articles and documentaries from TIME magazine and Reader's Digest to National Geographic.
His research on HIV transmission in dentistry published in Lancet and Nature Medicine prompted government health organizations worldwide to adopt the current heat-sterilization standard for dentistry in the 1990s. In 2000, the EPA Administrator awarded him the Science Achievement Award for his research published in Nature concerning the effects of climate change on risks posed by environmental pollutants. More recently, his research on heavy metals and other industrial chemicals in sewage sludge (biosolids) applied to land prompted two congressional hearings, a review by the National Academy of Sciences, and new guidelines issued by the CDC.
He currently serves as Research Director for the Focus for Health Foundation, Co-Director of the National Whistleblowers Center Leadership Council, and chairs the science advisory committee for the Autism Policy Reform Coalition. In May 2014, Skyhorse Publishing, Inc. in NY released his book, Science for Sale: How the U.S. Government Uses Powerful Corporations and Leading Universities to Support Government Policies, Silence Top Scientists, Jeopardize Our Health, and Protect Corporate Profits.
Watch David's latest research presentation entitled "Below the Fruited Plain" from the Autism One conference in Chicago.
---
Articles by Dr. Lewis:
---
Dr. David Lewis in the Press:
---
Listen to Interviews:
Dr. Mercola discusses biosolids with Dr. Lewis
Natural health expert and Mercola.com founder Dr. Joseph Mercola interviews Dr. David Lewis, a microbiologist with a PhD in Microbial Ecology who spent three decades working as an Environmental Protection Agency (EPA) scientist.

Click here to view more interviews.
---
Dr. Lewis in Print: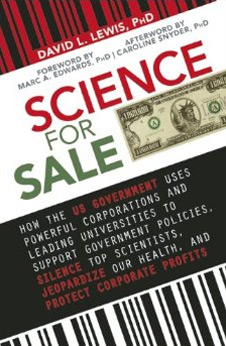 Science for Sale
David L. Lewis, PhD
How the US government uses powerful corporations and leading universities to support government policies, silence top scientists, jeopardize our health, and protect corporate profits.
"Organizations dealing with scientific misconduct are designed only to weed out those who commit fraud behind the backs of the institutions where they work. But the greatest threat of all is the purposeful corruption of the scientific enterprise by leaders within the institutions themselves. The science they create is often only an illusion, designed to deceive, and the scientists they destroy to protect that illusion are often our best."<class="author">
—David L. Lewis, Ph.D.Former U.S. EPA Research Microbiologist
"David Lewis has been a beacon of integrity against the apocalyptical forces of ignorance and greed endeavoring to divert science from the noble pursuit of truth and pervert it into a tool that supports the most destructive policies of industry and government."
---