Because vaccinations do not come without risk, some parents decide to modify the recommended vaccine schedule. If you are concerned that your child may be vulnerable to vaccine injury due to certain risk factors, talk to your pediatrician.
Some parents have opted to delay or spread out vaccines. In some states, options may be limited due to recent vaccine mandates for public school entry.
Some feel that delaying vaccines may provide protection against adverse vaccine reactions by allowing a child's immune system more time to develop, and some also believe that spacing out vaccines allows their child's body more time to recover between injections. Additionally, vaccine reactions may not be visible until days or weeks after vaccination. If more than one vaccine is given, the exact vaccine causing the adverse reaction may not be known.
Modifying the vaccine schedule can present with its own set of concerns. For example, the MMR is recommended by the CDC between 12 and 15 months of age, yet if delayed to between 16-18 months of age, there could be a higher risk for developing febrile seizures post vaccination.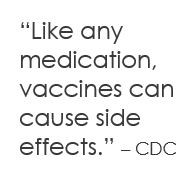 Another concern with altering the vaccine schedule is that each vaccine's efficacy has only been tested for the recommended time intervals, therefore spacing vaccinations out may not provide the desired immunity. Additionally, if some vaccines, like the hepatitis b, are not given within the recommended time spacing, some public schools will not accept the series as complete. Another option parents have chosen to address this issue is to do one vaccine series at a time. Doing one series at a time involves giving each vaccine type (Hep B, DTaP, etc) separately, but giving the vaccines in that series within the recommended time intervals.
If you are concerned that your child may be vulnerable to vaccine injury, you can talk with your pediatrician about a medical exemption. Exemption laws vary by state. The National Vaccine Information Center is a trustworthy resource for more information about vaccines and state mandates.
Did this answer your questions? Let us know in the comment section below.
Return to A Parent's Guide to Vaccines

Navigate pediatric immunizations – Inspired by a first time mom
Stay Informed. . . Stay Healthy!
---

Join the Conversation
your thoughts matter
Resources: