Before administering a vaccination, the doctor, nurse, or medical assistant takes your child's temperature and asks if they are sick. Why is this done?
The answer is very simple: If your child is sick, you may need to consider postponing the vaccination until they have recovered.
According to the CDC, your child can have most vaccines if he or she is only mildly ill, but "children with moderate or serious illness—with or without fever—may need to wait until they are better to get some vaccines."
CDC guidelines to determine if you should postpone your child's vaccine because of illness: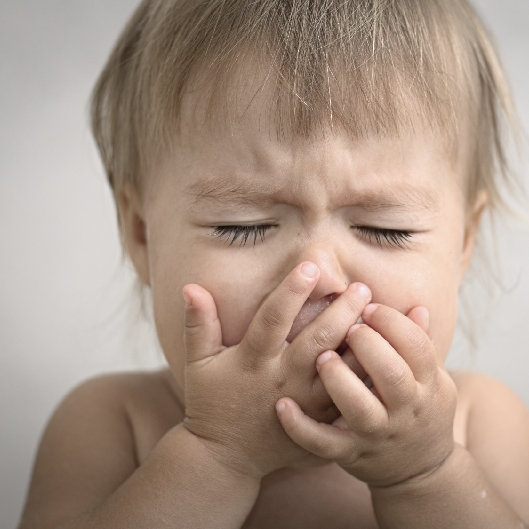 You don't usually need to postpone if your child:
Has a mild illness
Is taking antibiotics for a minor illness
You may want to postpone if your child:
Has a moderate to severe illness
Is taking an antiviral
However, if your child is sick at all, the CDC says that you may want to wait until they recover before administering the MMR, Td, Tdap, or Pneumococcal (PCV13).
3 reasons why you may want to postpone all vaccines until your child is completely healthy:
1. The difference between a mild and moderate illness can be hard to differentiate.For example, Influenza B is considered a mild illness, but Influenza A is considered a moderate one. The difference between these diseases can only be confirmed through laboratory testing.The difference between a mild, moderate, and severe illness often depends on the patient's health or stage of infection. A pathogen can cause mild illness in some, and severe illness in others, depending on the health of the individual. Also, many types of bacteria are carried as normal flora, and can become opportunistic pathogens depending on the health of the individual.
2. Vaccine safety and efficacy trials are not performed on people who are sick. Pre-licensing safety testing for vaccines includes only healthy individuals. No prospective clinical data exists showing how sick children respond to vaccination.Safety surveillance on this population is performed retroactively through the Vaccine Adverse Event Reporting System (VAERS), but underreporting via this passive surveillance system may distort findings. Effectiveness may also be an issue when vaccinating a sick child. If your child is busy fighting one infection, their immune system may not build the antibodies necessary to protect them from the infection they are being immunized against, leaving them vulnerable to vaccine-preventable diseases in the future.
3. If your child receives a vaccine while they are sick with a virus there is a possibility for the pathogen to enter the central nervous system and cause severe, life-threatening illness.The nervous system is well insulated against most infections, but when its natural defenses are compromised, it can be vulnerable to viral infection of the central nervous system (CNS).Injury to the muscle is one way that the nervous system can become compromised because skeletal muscle tissue is innervated with peripheral nerve cells. Examples of muscle injuries include animal bites, deep cuts, and puncture wounds from immunizations. Once inside injured muscle tissue, viruses can travel into the peripheral nerves. "A number of important human viruses spread through the axons of peripheral nerves and are thus carried to the CNS," (Rudolph, 2011, p. 884).
Wrapping it up
Muscle injury caused by a vaccine needle is one important reason to postpone vaccination during illness. Another is that the immune systems of moderately to severely sick children might not react appropriately to immunizations. It is the responsibility of every parent to weigh all risks and benefits before consenting to any medical intervention because you are the most important health advocate your child has.
When it comes to vaccination, the benefits of waiting until your child feels completely well may help you to avoid the many risks involved with immunizing during any illness.
Return to A Parent's Guide to Vaccines

Navigate pediatric immunizations – Inspired by a first time mom
Stay Informed. . . Stay Healthy!
---

Join the Conversation
your thoughts matter
References
http://www.cdc.gov/vaccines/hcp/patient-ed/conversations/downloads/fs-child-sick.pdf
http://www.cdc.gov/vaccines/vpd-vac/should-not-vacc.htm
http://www.cdc.gov/vaccines/pubs/pinkbook/flu.html
http://www.ncbi.nlm.nih.gov/pmc/articles/PMC3647473/
http://www.ncbi.nlm.nih.gov/pmc/articles/PMC3060663/
http://www.cdc.gov/polio/us/index.html
http://journals.plos.org/plospathogens/article?id=10.1371/journal.ppat.1000791
http://www.ncbi.nlm.nih.gov/pubmed/6176472
http://www.ncbi.nlm.nih.gov/pmc/articles/PMC110068/
http://www.ncbi.nlm.nih.gov/pmc/articles/PMC3647473/