Concentrated Toxic Chemicals in the Soils Where We Live, Work, and Grow our Food
2015 | David L. Lewis, PhD.
Why should I be aware of bio-solids?
In 1970, Congress created the U.S. Environmental Protection Agency (EPA) to clean up the Nation's water resources, which were becoming heavily contaminated with toxic industrial wastes. To deal with the problem, President Jimmy Carter created the largest public works program ever to build wastewater treatment plants to remove chemical pollutants from water and concentrate them in the sewage sludges that settle out. Now the challenge became what to do with the pollutant-rich sewage sludges, which also contain high levels of human parasites and disease-causing bacteria and viruses.

Dr. John Walker, a soil scientist working at EPA headquarters, advised Deputy Assistant Administrator Henry Longest: "The application of some low levels of toxic substances to land for food crop production should not be prohibited.

1

"

And so began the EPA's new approach to disposing of the Nation's industrial and municipal pollutants. The approach it took was to treat the sewage sludges, usually by just adding lime, and then apply them in tons-per-acre to farms, forests and school playgrounds and other public and private lands. Biosolids contain all of the ten leading groups of chemical pollutants linked to autism—at a million-times higher concentrations than they are found in water.
Where are bio-solids found?
Since Congress passed Clean Water and Clear Air legislation but no Clean Soil Act, and then banned ocean dumping of sewage sludges, big industry and the Nation's cities had no cheap place to get rid of toxic chemical and biological wastes except the land.
In 2007, for example, Milwaukee Public Schools closed thirty fields and playgrounds after the City discovered that its "Class A" biosolids were highly contaminated with PCBs.
Until the topsoil could be removed and buried at a hazardous waste site, the City fenced off fields where over 16,000 youths and adults played softball, soccer and kickball.
Minimally protective waste regulations in place
Milwaukee is one of only a few cities that monitor biosolids for PCBs. EPA exempts virtually all chemical pollutants found in sewage sludge from being regulated. This includes most heavy metals and a host of pharmaceuticals, pesticides, growth hormones, flame retardants and other pollutants, which are present at potentially harmful (up to high ppm) levels, and are carcinogenic, mutagenic, neurotoxic, or otherwise harmful. Their concentrations in biosolids, which are inhaled as dusts, directly ingested by children, and swallowed by grazing animals, are generally a million-fold higher (parts-per-million versus parts-per-trillion) than they ever were in water. Many of these chemicals, like PCBs, are highly resistant to biodegradation. Moreover, when biodegradation does occur, the breakdown products are oftentimes as harmful, if not more harmful, than the parent compounds.
Negative health implications
To investigate the effects the concentrated pollutants may be having on farm animals, EPA funded a 5-year field study by the University of Florida UF), in which researchers concluded:2
Cadmium levels in forage from soils pretreated with certain sludges resulted in high levels in liver and kidney tissues of cattle consuming such forage… Clinical chemistry tests and pathogenic lesions suggested cumulative toxic effects including liver damage.
Cattle grazing on forage from soils treated with sewage sludges acquired parasites (Sarcosporidia), which infected their cardiac and skeletal muscles. Humans infected with Sarcosporidia typically experience gastrointestinal, respiratory and cardiac symptoms that resolve within days to weeks, but may last up to five years. When their liver and kidney tissues from the cattle were incorporated into mouse diets, increased levels of cadmium, nickel, chromium, and lead were found in liver and kidney tissues of the mice.
In the study, four of the seven metals EPA currently regulates in biosolids (Cd, Cr, Pb, and Ni) accumulated in soils, and were taken up in high concentrations by forage plants. In short, the UF study provides strong evidence that EPA's current regulation (the 503 sludge rule) is not protective of public health. Since lead concentrations in the UF study were well within the range EPA currently permits for application to croplands, EPA's current 503 sludge rule is not protective of public health. To earn tenure and gain stature within the academic community, scientists must publish their research in the peer-reviewed scientific literature. UF, however, never published these results; and EPA has not made these results publicly available on its website.
Biosolids (Class A and B) are rich in proteins, which allow Staphylococcus aureus to regrow in sewage sludges once they are stockpiled or spread on land. In studies of the health effects on residents living within 1 mile of farms treated with biosolids, researchers observed such regrowth and reported a higher prevalence of gastrointestinal and respiratory infections.3,4,5,6 Two of three human deaths we investigated were caused S. aureus and linked to biosolids sites in NH and PA.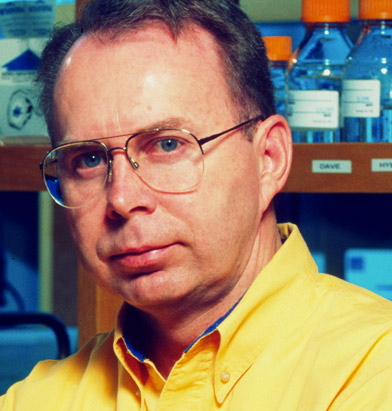 David Lewis, Ph.D.
Former U.S. EPA Research Microbiologist
David Lewis is an internationally recognized research microbiologist whose work on public health and environmental issues, as a senior-level Research Microbiologist in EPA's Office of Research & Development and member of the Graduate Faculty of the University of Georgia, has been reported in numerous news articles and documentaries from TIME magazine and Reader's Digest to National Geographic.
U.S. Environmental Protection Agency. Memorandum: Walker JM, EPA Municipal Technology Branch to Henry L. Longest II, EPA Assoc. Deputy Asst. Administrator for Water Program Operations. Sept. 12, 1978.
US EPA Report: EPA-600/S1-81-026, 232 p. (Apr. 1981). "Sewage Sludge –Viral and Pathogenic Agents in Soil-Plant-Animal Systems." G.T. Edds and J.M. Davidson, Institute of Food and Agricultural Systems, University of Florida. Project Summary available online at http://nepis.epa.gov/ by searching 600S181026 or key words in the title of the report.
Lewis DL, Gattie DK, Novak ME, Sanchez S, Pumphrey C. Interactions of pathogens and irritant chemicals in land-applied sewage sludges (biosolids). BMC Public Health 2:11 (28 Jun). www.biomedcentral.com/1471-2458/2/11.
Lewis DL, Gattie DK, Pathogen risks from applying sewage sludge to land Environ. Sci. Technol. 2002; 36:286A-293A.
Ghosh J, Bioaerosols Generated From Biosolids Applied Farm Fields In Wood County,
Ohio. Master of Science Thesis (2005), Graduate College of Bowling Green State University. Abstract by Robert K Vincent, Advisor.
Khuder S et al. Arch. Environ. Occup. Health 2007; 62, 5–11.

Join the Conversation
your thoughts matter