Robyn Charron
August 28, 2017
---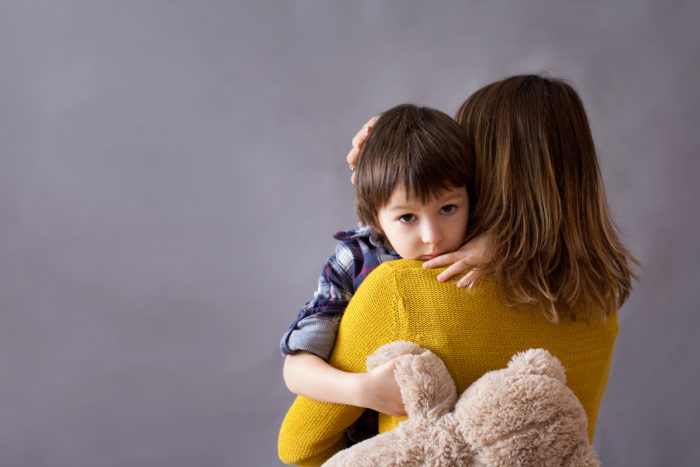 Most of us Americans are aware of the autism rate among US children, but have you ever wondered how our number compares against the world's leading nations? If you thought that in 2017 a few keystrokes would bring up recent and reliable comparisons of the autism rates of the world's wealthiest and healthiest countries, you'll be sorely disappointed. America appears to be one of the only places in the world tracking and reporting their autism numbers, and even America's survey parameters are in desperate need of improvement.
Inspired by this 2015 list of the world's highest academically performing countries, we've searched for the most recently reported rates of autism for Belgium, Canada, China, Denmark, Estonia, Finland, Germany, Hong Kong, Ireland, Japan, the Netherlands, Norway, Poland, Singapore, South Korea, Switzerland, and Taiwan. The information wasn't easy to locate, so we've compiled our findings for your quick comparison to American kids. The results will surprise and sadden you.
For readers who aren't entirely certain of what it means to be on the spectrum, we'll shed some light on the definition:
Autism Spectrum Disorder (ASD) is characterized by having deficits in social skills, engaging in repetitive behaviors, and having challenges with speech and non-verbal communication. Despite the media's portrayal of autistic people being prodigies or having extremely high intelligence, more than half of autistic people have an IQ of less than 70. 30% of autistic children never speak more than a few words, they are sickened by bowel disease at a much higher rate than the average population, and many suffer from debilitating anxiety. By the most conservative estimates, almost 20% of children with autism also have epilepsy. Over 90% of autistic children who die prematurely do so because of drowning. The most severely affected kids may never be toilet trained and many struggle with frustrations that lead them to self-assault or assault a caregiver.
Currently autism has no real cure, but treating the medical conditions that aggravate autism symptoms can drastically improve the child's health, and many parents report that their child is considered to be "recovered."
The statistics we found show a great disparity in autism rates across developed nations, and there are a couple of reasons why.
First, other nations don't actively track or publicly report their autism rates. Most of the studies we relied on—none of which are older than 2004— begin with the disclaimer that a particular country doesn't track or report their autism rates. That's a shockingly recent admission of a nation's failure to show concern for a childhood epidemic spreading across the globe. Even in prosperous nations such as Switzerland, which has mandated medical insurance, governments have a history of neglecting children on the autism spectrum nearly completely. In many countries, the stigma that an autism label creates against entire families prevents parents from seeking a diagnosis, which has tragically caused 2/3 of South Korea's autistic children to live without treatment.
Second, there aren't worldwide uniform criteria for assessing autism, and even if there were, not every country has the resources to conduct such an assessment. In Asia, the number of children registered as autistic is significantly higher in urban areas than rural. We don't know if that is due to a lack of awareness of the option to seek services, or if, for environmental reasons, there truly are less autistic children in rural areas.
In the US, the lag in the Centers for Disease Control's (CDC) autism survey is so great that the numbers aren't an accurate reflection of America's epidemic.
It's a bit of a brain teaser, but the CDC's 2016 announcement that autism rates did not increase over the previous report of 1-in-68 was from a survey conducted in 2012 of 8-year old children born in 2004. It would have been far more accurate to conduct a 2014 investigation of five-year old children born in 2009, and release that report in 2016, but let's not get too rational.
Somehow the CDC can scramble to have a 2015 whooping cough surveillance report online by January 2016 and scare bejesus out of everyone, but we are forced to wait four years for an outdated autism survey that doesn't include any statistics from current preschoolers, kindergarteners, or first graders.
On that note, while the CDC asserted that America's autism rates have held steady at 1-in-68 for the first time in their survey's history, a 2015 National Health Statistics report found the actual US autism rate to be drastically higher at 1-in-45.
And this matter of America's real "number" is about to be further complicated in five years because Asperger's Syndrome was removed from the fifth edition of the Diagnostic and Statistical Manual of Mental Disorders in 2013. This means that the more severe cases of Asperger's were merged into the autism spectrum but less severely affected children may now go without an autism-related diagnosis entirely. The impact of squeezing the highest functioning children out of the spectrum might deprive them of social therapies they desperately need.
This change in ASD diagnostic criteria will cause the highest functioning 4-year old children who were privately assessed for autism in 2014 or later— but didn't receive an official autism diagnosis due to the change in the DSMV-V— to be excluded from the CDC's reported autism rate. The result will be that the upcoming 2018 CDC autism survey of 8-year olds (which won't be publically released until 2022) will show an artificial drop in autism in America, which is nothing more than a "correction" of the diagnostic criteria of Autism Spectrum Disorder.
So where do we stand, globally? When compared to countries with top-performing kids, the United States is #3 for the most autism diagnoses in the world. Remember, our list is of 17 competing countries that outperform the US academically, and who we could also find recent autism data on; it's not a list of the whole world, and it doesn't include autism rates older than 2004.
Here are the number of autism diagnoses per 10,000 children in our selected countries: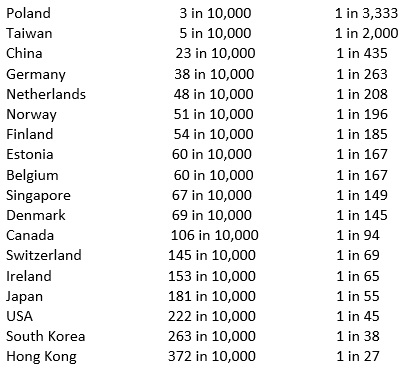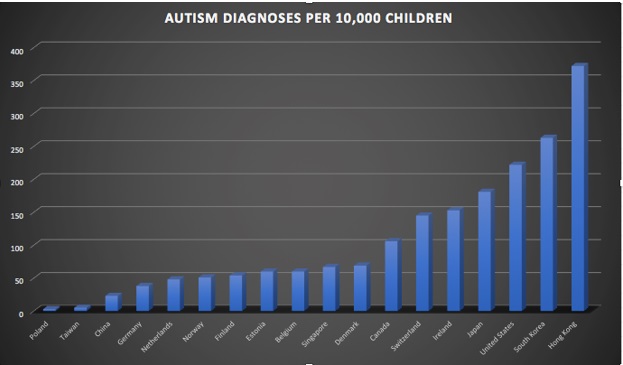 It's important to note that for many years South Korea has been known to have the highest autism rates in the world despite the high stigma. But we found a 2017 piece in Hong Kong media that puts Korea's 2011 rate— which was derived from children enrolled in its special education schools— at a distant second. See the following endnotes for further discussion about how this was calculated.
Focus for Health founder, Barry Segal, is dedicated to ensuring that parents around the world have up-to-date information to make decisions for their children.
"This disparity in autism awareness and access to services emphasizes the need for a cohesive global autism plan," he said. "We can't begin to compare the environmental factors at fault if we don't know the true rates of urban and rural autism prevalence across the globe, and that begins with educating parents and removing the public stigma of autism."
If the world had a uniform way of diagnosing autism, and each country had the resources to do so, we could consider the global environmental factors that drive the epidemic. Without it, we are left wondering if Poland is doing something right that the rest of the world doesn't know about, or if Poland needs more resources in order to report an accurate number.
What can we do to change the world? It's been three years since the World Health Organization adopted a resolution to coordinate and manage autism worldwide as part of their mental health action plan (autism isn't mental; someone please tell the WHO). Yet here we are, with almost no other country openly reporting their rates because 2020 is the deadline, and no one is taking the initiative to comply any sooner than that. Let the WHO know we're waiting.
Notes on arriving at autism rate sources:
For Belgium, the 60 in 10,000 statistic was arrived at by using Belgium's 2010 survey of children aged 3 to 39 months. 41 in 6,808 of these children had autism, which is 0.6%.
https://www.ncbi.nlm.nih.gov/pubmed/20198413
For Canada, the 106 in 10,000 statistic was arrived at by using Canada's Autism Ontario website which states that 1 in 94 children is diagnosed with autism, which is 1.06%.
https://www.autismontario.com/client/aso/ao.nsf/web/Info+about+ASD?OpenDocument
For China, the 23 in 10,000 statistic was arrived at by using China's 2013 report which combined results of numerous studies. The report arrived at 105 out of 45,694 children under 18 have autism, which is 0.23%.
https://www.ncbi.nlm.nih.gov/pmc/articles/PMC4054540/
For Estonia, the 60 in 10,000 statistic was arrived at by using the 2013 Norway Grants presentation which stated that 0.6% of children under age 18 have autism. https://intra.tai.ee/images/eventlist/events/13_HPH13_Childrens_mental_health_Kleinberg.pdf
For Denmark, the 69 in 10,000 statistic was taken from the 2011 study that stated 68.5 per 10,000 children have autism.
https://www.ncbi.nlm.nih.gov/pubmed/21311963
For Finland, the 54 in 10,000 statistic came from a 2014 report that found 53.7 per 10,000 people age 8-26 have autism.
https://www.ncbi.nlm.nih.gov/pubmed/24359461
For Germany, the 38 in 10,000 statistic came from a 2016 report that found 0.22% to 0.38% of 0-24 year olds are autistic.
http://journals.sagepub.com/doi/abs/10.1177/1362361316673977
For Hong Kong, the 371 in 10,000 statistic came from a 2017 media piece that reported 25,000 children are registered as autistic with an expected 10,000 more school children to be diagnosed in the 2017-2018 school year.
http://www.scmp.com/news/hong-kong/education-community/article/2081935/hong-kong-neglecting-needs-its-autistic-pupils
These 35,000 school children were then divided into Hong Kong's 941,200 citizens who are aged 5-19.
https://en.wikipedia.org/wiki/Demographics_of_Hong_Kong
For Ireland, the 153 in 10,000 statistic came from a 2016 report which stated that 1 in 65 school aged children has autism, which is 1.53%.
http://www.thejournal.ie/autism-irish-schools-2879550-Jul2016/
For Japan, the 181 in 10,000 statistic came from a 2008 report that stated 181 per 10,000 children born between 1994 and 1996 have PDD in the city of Toyota. https://www.ncbi.nlm.nih.gov/pubmed/18412836
For the Netherlands, the 48 in 10,000 statistic was arrived at by using a 2013 report that stated 518 out of 106,953 children born 1998-2007 have autism, which is 0.48%.
https://www.ncbi.nlm.nih.gov/pubmed/23216206
For Norway, the 51 in 10,000 statistic was arrived at by using a 2012 report states that there were 158 cases of autism per 31,015 children aged 6 to 12. https://www.ncbi.nlm.nih.gov/pubmed/22342070
For Poland, the 3 in 10,000 statistic came from a 2012 report that there are 3.4 cases per 10,000 of children up to age 18.
https://www.infona.pl/resource/bwmeta1.element.elsevier-cf0292d1-9804-3a46-aa4b-846db171f780
For Singapore, the 67 in 10,000 statistic came from a 2016 report that 1 in 150 children has autism, which is 0.67%.
http://www.straitstimes.com/singapore/health/1-in-150-children-in-singapore-has-autism
For South Korea, the 263 in 10,000 statistic came from a 2011 report which stated that 1 in 38 children aged 7 to 12 have autism, which is 2.63%.
https://www.ncbi.nlm.nih.gov/pubmed/21558103
For Switzerland, the 145 in 10,000 statistic was arrived at by using a 2004 report which estimated that 0.5 to 0.8% of the entire Swiss population has autism.
https://www.swissinfo.ch/eng/report-calls-for-end-to-neglect-of-autism/4006988
The demographics of Switzerland show that 34.4% of all people are under the age of 30. Since the oldest demographic of the autism epidemic is currently 27, then 1.45% to 2.33% of Swiss under age 30 may be autistic.
https://en.wikipedia.org/wiki/Demographics_of_Switzerland
For Taiwan, the 5 in 10,000 statistic came from a report in 2012 that 12.3 in 1000 of the general population are autistic.
http://www.sciencedirect.com/science/article/pii/S1750946711001577
Demographics of Taiwan show that 26.4% of the population is age 0-24. Since the oldest demographic of the autism epidemic is currently 27, then 0.05% of people aged 0-24 are likely autistic in Taiwan.
http://www.indexmundi.com/taiwan/demographics_profile.html
For the United States, the 222 in 10,000 statistic came from a 2015 report which found 1-in-45 children aged 3-17 have autism, which is 2.22%.
https://www.cdc.gov/nchs/data/nhsr/nhsr087.pdf
Meet Robyn Charron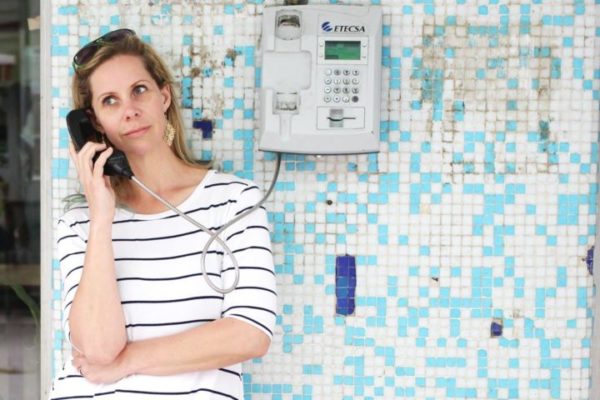 Prior to attending law school, Robyn Charron earned a bachelor of science in biology and worked for two years in laboratories researching genetic disease. When her firstborn suffered a vaccine injury at two months old, her conventional parenting went out the window and she ushered in a world of organic food, immune-boosting supplements, Traditional Chinese Medicine, healing oils and non-toxic living. She currently lives in Denver, where she advocates for allergy awareness and parents' rights to make medical decisions for their children without government intervention.
Stay Informed. . . Stay Healthy!
---

Join the Conversation
your thoughts matter