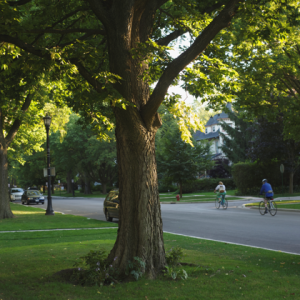 We all know the numbers:
1:68 children in the US have autism
1:45 children in NJ have autism
1:29 boys in NJ have autism
But did you know that nearly half of all children with autism will "wander" away from the safety of a caregiver or safe environment, risking their lives? According to a 2011 survey conducted by the Interactive Autism Network (IAN), preliminary data showed 1:48 children with ASD wander from a safe environment to explore, go to places they desire, or to escape demands or uncomfortable sensory stimuli. Many individuals with autism exhibit decreased safety awareness and can be aloof to the dangers that surround them. While most individuals are recovered safely, wandering tendencies also result in lethal outcomes.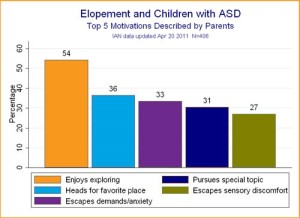 Search and Recovery
Law enforcement, first responders and search teams face unusual challenges in the search and recovery of a missing person with autism. While some protocols may be the same, the behaviors of individuals with autism are variable and may influence the nature of the mission. Given the typical diminished sense of fear, these individuals may engage in high-risk behavior and at times, elude or hide from search teams. Often, an inability to respond makes the recovery process that much more challenging.
Lethal Outcomes
In 2012, The National Autism Association (NAA) reported that 22 fatalities occurred during 2009, 2010 and 2011 subsequent to wandering (also referred to as elopement). Individuals with ASD typically enjoy playing in water and statistics show they may gravitate to bodies of water when wandering. The NAA reports that 91% of elopement related deaths were caused by accidental drowning in a nearby pond, lake, creek, river, swimming pool or drainage ditch. It is also known that children with ASD frequently have a pre-occupation with cars and vehicles and may therefore have a tendency to wander towards roads and highways. The NAA reported that two in three parents of elopers say their missing children had a "close call" with traffic. Sadly, several fatalities have occurred from children sustaining injuries after being hit by moving vehicles during a wandering episode.
Family Stress
Studies have shown that parents and siblings of children with ASD experience higher levels of stress, anxiety, depression and poorer health. Elopement tendencies can have an effect on the entire family. The IAN's findings indicate that 58% of parents of elopers view wandering as the most stressful ASD behavior and, 62% say the risk of elopement prevents them from enjoying activities outside of the home. Of those parents of elopers surveyed, 40% say they suffer from disrupted sleep due to fear of elopement.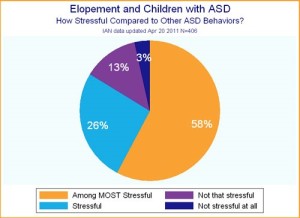 Education and Awareness
Teaching safety to children with ASD is a challenging task especially to those who are cognitively and speech/language impaired. According to the IAN, over one third of those who elope are unable to communicate their name, address or phone number. The IAN also reports that half of families who reported elopement had never received advice or guidance from a professional. Some parents who responded to the NAA survey admitted their own hesitation in contacting law enforcement in fear of arrest and others reported school officials delayed calling 911 while they searched for the missing student on their own.
Resources
Parents of children with ASD should initiate conversations with caregivers, educators and pediatricians, about the risk of elopement. A family emergency plan should be developed and shared with all caregivers. Local law enforcement officials should be aware that their child with autism is at risk of elopement so necessary precautions may be taken. Parents should provide descriptions, pictures, personal interests, medical issues and other vital information to the authorities as a precaution, to expedite the search process in the event of elopement.
Many resources are now available to families from well-respected organizations providing educational information, ID toolkits and location devices. For more information on autism and wandering/elopement safety, please check out the following links:
Click for Privacy Policy and Terms of Use
Chart sourcing: Image reproduced with permission of Kennedy Krieger Institute, Baltimore, MD. This information appeared originally at www.iancommunity.org.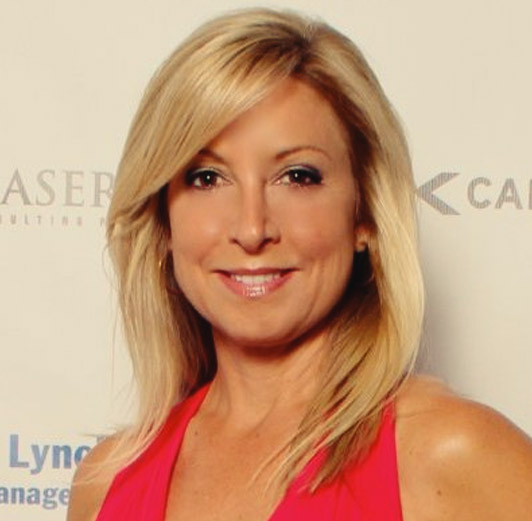 Meet Sheri A. Marino, MA, CCC-SLP
Pediatric Health Advisor
Sheri is a pediatric speech and language pathologist with over 25 years of clinical experience specializing in autism. She has published numerous articles on autism and shares her clinical expertise through writing and lecturing internationally. Sheri is passionate about treating the "whole child" through integrative medicine and is interested in research that examines the environmental causes of autism. As a consultant to FFH, Sheri contributes her clinical knowledge and management experience to help develop and carry out the mission of the Focus for Health Foundation. She has been featured on CBS News, NBC News, NJN and multiple Cable networks.
Stay Informed. . . Stay Healthy!
---

Join the Conversation
your thoughts matter