The Oconee Enterprise, July 7, 2017:
Dr. David Lewis
The National Institutes for Health describes the need for scientific research on traditional medicine as "huge." Nowhere is this need more obvious than in Africa. Much of the continent still has extremely limited access to Western medicine. Most of the population heavily relies on traditional herbal remedies. Their use reaches back to the dawn of human existence, and includes a number of compounds used in modern medicine. About a fourth of pharmaceutical drugs are derived from plants.
Dr. Lewis' article posted in The Oconee Enterprise – Click to enlarge
Recently, my wife and I attended the premier showing of the documentary film, Strong Medicine: The Secret Power of African Healing, sponsored by Andrew Young. Young, who just turned 85, is a Civil Rights Icon and former U.S. Ambassador to the United Nations during the Carter Administration. His knowledge of Africa is inexhaustible, and the stories he tells of the times he has spent there are spellbinding. Among his many activities, Amb. Young is helping to develop and apply some of the same technologies I recommend for solving problems with land application of hazardous chemical wastes in treated sewage sludges.
It wasn't until I watched the film Strong Medicine that I realized that Amb. Young and I have another area of interest in common—chemical agents that interfere with HIV infection. The film is about a mixture of herbal extracts used to treat AIDS in Africa. Tests conducted in the U.S. show that the mixture prevents HIV from attaching to human blood cells, called lymphocytes, in laboratory cultures. It effectively prevents HIV infection under laboratory conditions. Whether the anti-HIV agents derived from herbs prevent HIV infection in humans is the subject of clinical trials for which Amb. Young is currently raising funds.
In 1992, the FDA and CDC upgraded their infection control guidelines for dental drills and other reused devices to require heat sterilization after every use. Other public health organizations worldwide followed suit. This action was taken in response to research my coauthors at Washington University's Retrovirus Clinic, and Loma Linda University's Dental School and I published in Lancet. While investigating an outbreak of HIV in a Florida dental practice, we discovered that HIV trapped in lubricants in devices used to drill and clean teeth can escape disinfection and potentially infect subsequent patients.
Subsequently, the National Association of Dental Laboratories asked me to take a look at impressions used to make crowns and bridges. Impression materials, which entrap visible amounts of blood, could present a risk of HIV infection when laboratory workers use scalpels and other sharp instruments to trim them. My colleagues and I were relieved to discover that two of the most common types of impression materials leach one or more chemical agents that, even in trace amounts, inactivate HIV. We are currently discussing these results with Amb. Young. Including them in studies of herbal extracts could shed light on their anti-viral activities and improve the chances of finding some agent, or combination of agents, that work in clinical trials.
David L. Lewis, Ph.D., is the Research Director for the Focus for Health Foundation in Watchung, NJ, and CEO of Saxon Road Church, Inc. in Watkinsville. The opinions expressed are those of the writer.

Join the Conversation
your thoughts matter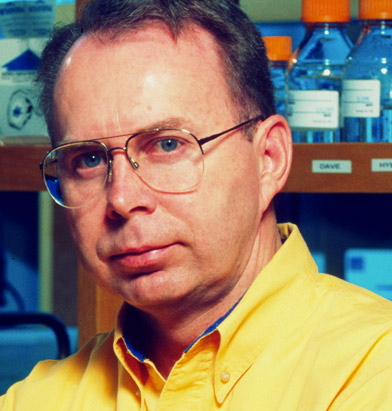 David Lewis, Ph.D.
Former U.S. EPA Research Microbiologist
David Lewis is an internationally recognized research microbiologist whose work on public health and environmental issues, as a senior-level Research Microbiologist in EPA's Office of Research & Development and member of the Graduate Faculty of the University of Georgia, has been reported in numerous news articles and documentaries from TIME magazine and Reader's Digest to National Geographic.