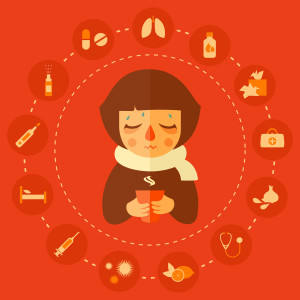 The flu season usually occurs in the colder months of the year. Here in the US, the season begins in late October and stretches into early April. Here are 4 tips to help keep you healthy this season…
1

Wash your hands Washing your hands is the number one way to stop the spread of the influenza virus, which can live on the surface of your hands, counters, and door handles for up to two days in certain conditions.
2

Wear a mask around anyone who might have the flu Surgical masks act as a barrier between you and the flu virus. Influenza can be spread by what the medical community calls "droplet transmission," meaning that when someone sneezes or coughs, the virus can be spread through the air for up to 3 feet. If someone in your home is sick, you may want to take this extra precaution.

Anatomy Lesson: While the mask protects you, its goal is really to protect your mucous membranes, or the more permeable skin that lines the inside of your respiratory and digestive organs (mouth and nose). These mucous membranes are more penetrable than your skin – which means that microbes like viruses can be absorbed and potentially make you sick. Don't forget that your eyes are another entryway for germs. Ignore the urge to rub your eyes or touch your nose with unwashed hands – especially during flu season!
3

Get your Vitamin D

In the summer months, most of us get our vitamin D – which is vital to immune function – from the sun, but in the winter some of us need a little help. Talk to your doctor about a simple blood test to determine if you are deficient.

Our partners at the NVIC add that vitamin D in addition to the Vitamin C can be important to flu prevention.

Deciding to vaccinate is a personal decision and one that should be made only after you have considered all available information.
The CDC recommends "a yearly flu vaccine for everyone 6 months of age and older as the first and most important step in protecting against this serious disease."
The flu shot is not risk free. Mild side effects of the flu shot can include mild soreness, redness, or swelling at the injection site, cough, fever, headache, hoarseness, fatigue, and aches. Symptoms of the flu are almost identical, and include: cough, fever and chills, headache, sore throat, fatigue, and body aches.
The CDC also lists the following as "moderate problems" associated with the flu vaccine:

Chance of serious injury or death
Young children who receive inactivated flu vaccine and pneumococcal vaccine at the same time may be at increased risk for seizures caused by fever.

Pregnant mothers are told that getting the flu can lead to negative outcomes for their baby. What they don't know is that the flu shot creates the same potential damage that getting the flu creates. It is the inflammation caused by the immune response, not the virus, which causes harm. If you would like to read more check out…
Maternal Health and Inflammation

Inflammation is a normal response of the body, but knowing what it is, why it happens, and its role on prenatal health can help prevent unnecessary complications. +
No flu shot can ever be fully safety tested. It takes 8 years on average for a new drug or treatment to be clinically tested and approved, but because predictions about circulating influenza strains are made yearly in February, and the vaccine must be manufactured by October of the same year, these safety tests are not done.
There are no published studies of the efficacy or effectiveness of influenza vaccines in preventing laboratory-confirmed, serious outcomes of influenza such as hospitalization.

If you do choose to get the flu shot, consider asking for the single dose immunization. Multi-dose vials contain up to 25mcg of thimerosal (mercury) which could could negatively affect your health.

If you do get sick…

Already have the Flu?

7 tips to help you get back on your feet! Plus a flu medication guide.

RESOURCES

Join the Conversation
your thoughts matter